You may not be able to enjoy international travel right now, but that doesn't mean you can't enjoy safe & affordable adventures in Alberta this summer. We're thrilled to announce that our legendary hotel deals are BACK!
Our kick off for the season is the Summer Stock Up deal* and it's a doozy. You get $50 to Costco and $50 to Ikea for each night of your stay, up to 3 nights. So you can shop big box to your heart's content and enjoy a stay at the hotel of your choice. That's right, $100 bucks each night and you get to choose the hotel that works best for you.
Filter by area, amenities, price and choose the one that fits your needs from our selection of 57 properties. The only way to go wrong is by passing up this amazing deal.
*Reserve a minimum of 48 hours prior to arrival. Additional Terms & Conditions apply.
**NOTE:  Due to popular demand, the

ML25 and ML50 Boost Codes have sold out

.**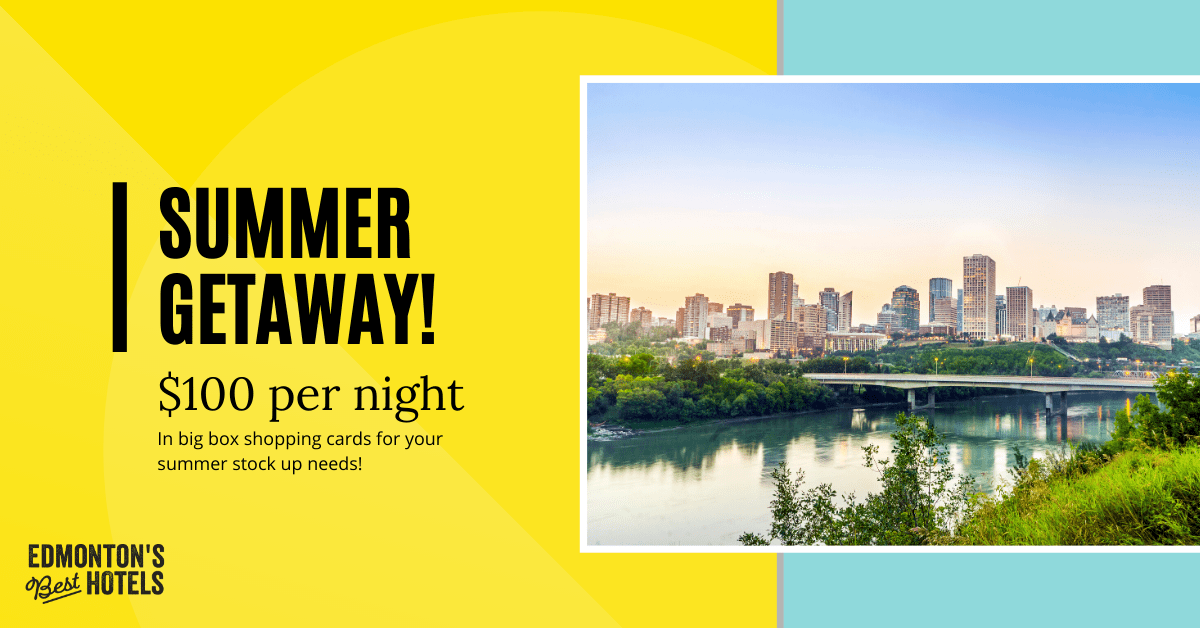 Explore & Enjoy What Edmonton Has To Offer
Deal Extended but Selling Fast!


2707 Ellwood Drive SW
Edmonton, Alberta, T6X 0P7
Clicking subscribe means you agree to receive our newsletter through email. Our newsletters provide information about leisure deals and promotions.
Got a question?  Contact us at info@edmh.ca
ABOUT
Edmonton's Best Hotels is devoted to helping you plan and book your amazing Edmonton getaway with the best hotels and deals that open doors to everything!  From shopping and dining cards to concert tickets and attraction discounts, our deals include a range of options for the best value anywhere.  Our parent company, Edmonton Destination Marketing Hotels, is a hotel association committed to supporting Edmonton's tourism industry for the benefit of the city and our wonderful visitors.