Holiday Gifting Guide Part 1: Unique Gifts
It's hard to believe that the holidays are nearly upon us for another year!  As always, gift giving is an important part of the season and to help you plan early, we're devoting the blogs this week and next week to gifting.  Since none of us needs another mass-produced, plastic gadget or doodad, the places featured carry some combination of local, sustainable, handmade, and high-quality products.  In this blog, we're focused on where to find unique gifts, so we've looked high and low to find lesser-known Edmonton original shops stocked with interesting and thoughtful items for everyone on your list.  Let's get shopping!
Operated by the Edmonton Arts Council, Tix on the Square is a box office and gift shop located on the southwest corner of Churchill Square.  Tickets are available for various concerts and events in Edmonton, but you will also find an extensive selection of gift items.  The website lists clothing, books, music, art, photography, and fine crafts as being available for sale, often made by local artists and artisans.  Follow their Instagram for updates on what's new, available, and restocked at the store.
When talking unique, you can't overlook the pieces available at the Alberta Craft Gallery and Shop which is operated by the Alberta Craft Council. Their array of giftable pieces includes pottery, blown and fused glass, jewellery, woodwork, fibre art, furniture, and home accessories from over 150 emerging, mid-career, and established Alberta-based artists. With a portion of each purchase going to both the artist and the council, you are helping to support the arts and getting a handmade, one-of-a-kind gift as well. For a sampling of what's available for sale, visit their online store here.
This shop on 100 Street at Rice Howard Way in downtown is a whimsical mix of florist, finer things and curated found objects, and it's unlike anywhere else.  Everything oozes understated luxury with a hipster edge, and you can never be sure what treasures you will find.  A short list includes tableware, jewelry, pet accessories, throw cushions, incense, tea… A small selection of items is available for online shopping here, but a visit is highly encouraged since there's nothing like the real thing.
Honourable Mentions
When you imagine gallery gift shops, perhaps the compulsory collection of bland art prints and coffee table books come to mind.  Surely, not the type of place to excitedly visit for holiday shopping, but you'd be wrong.  The AGA Shop is chock full of thousands of artistic and art-inspired pieces like jewelry, pottery, fashion accessories (scarves, purses, watches), and clothing; you'll certainly need to leave yourself enough time to really take a good look and ponder which things will be going home with you, and which will have to wait until next time.
Like the AGA gift shop, the RAM shop is so much more than the dinosaur stuffed animals we all remember from museum trips in childhood.  There is a plethora of fine gift items simply too numerous to mention that includes home décor, cards, tote bags, fashion accessories, puzzles, games, pottery, and lots more.  By the way, they do have those dino stuffies, and they're just so much better than we remember, that you might want to grab a couple of them.
Ready to make that list and check it twice? You can also get some freebies with your hotel when you book with Edmonton's Best Hotels!  Our Shopping 1, 2, 3 deal is live and available here.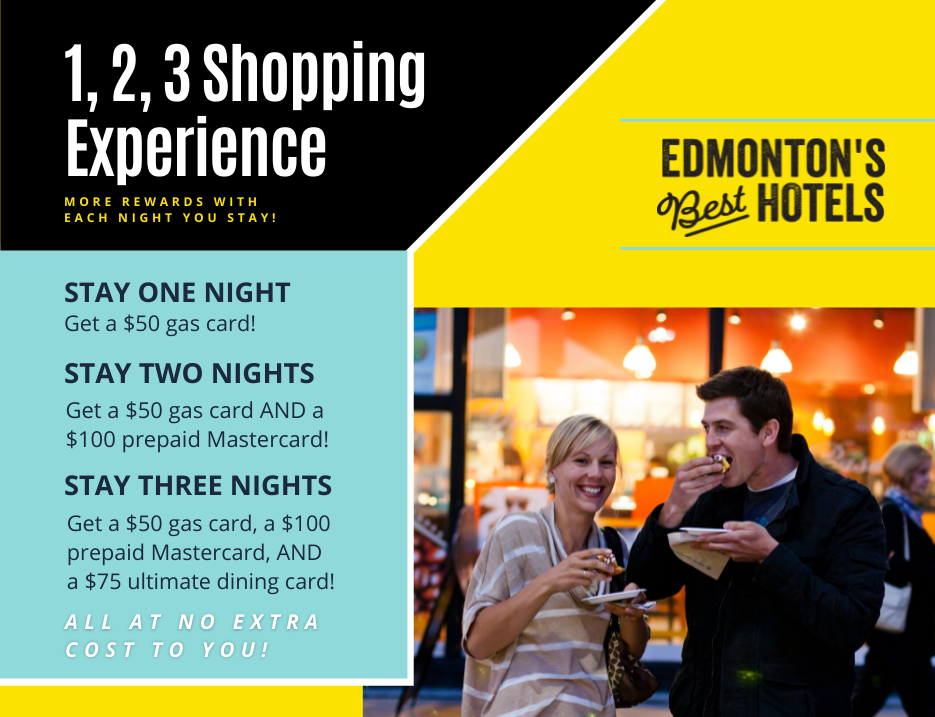 Next week, part two of the gifting guide will feature a list of popular holiday markets coming up in November and December.  Be sure to sign up for our Insider emails so that you don't miss it, or our next contest!
There's a new deal coming every week, many available for a limited time and in limited quantities. The best way to get first notice is by signing up for our Insider emails below.