As the summer sun begins to wane, the excitement of a new school year approaches in Edmonton. The smell of fresh notebooks, the anticipation of making new friends, and the promise of learning adventures all come together to create an atmosphere of eager anticipation. To ensure a successful academic journey, preparation is key, and having a comprehensive back-to-school supplies checklist is your ultimate guide. In this blog, we'll take you through an essential checklist of school supplies and introduce you to local Edmonton stores where you can find them. Plus, we'll highlight the importance of supporting local businesses, budgeting wisely, and even provide you with a downloadable and printable checklist for your convenience.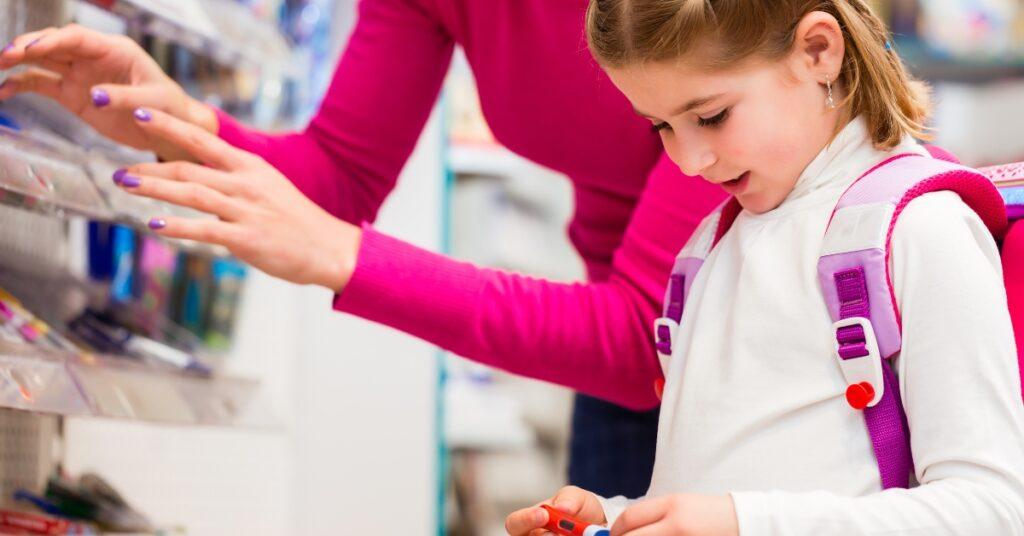 Essential School Supplies Checklist
A well-equipped student is a confident and organized student. From writing tools to classroom essentials, here's a breakdown of the must-haves for a successful academic year:
Writing and Note-Taking Supplies
Pens – Blue, black, and red pens for all your writing needs.
Pencils – Opt for either mechanical pencils for convenience or classic wooden pencils.
Highlighters – Color-code and emphasize important information in your notes.
Erasers – Mistakes are a part of learning; make sure you have plenty of erasers on hand.
Ruled Notebooks or Loose-Leaf Paper – Stay organized with dedicated spaces for different subjects.
Sticky Notes – These little gems are perfect for reminders and marking pages.
Organization and Storage
Backpack – Carry your supplies comfortably and stylishly.
Binders or Folders – Keep your notes organized and easily accessible.
Pencil Case or Organizer – A tidy workspace promotes efficient learning.
Planner or Calendar – Stay on top of assignments, tests, and extracurricular activities.
Classroom Tools
Calculator – An essential for math and science classes.
Ruler – Measure with precision and create straight lines.
Protractor and Compass – For more advanced geometry needs.
Scissors – Handy for arts and crafts projects.
Glue Stick or Tape – Keep your projects together.
Technology and Devices
USB Flash Drive or External Storage – Store and transport digital assignments.
Headphones or Earbuds – Block out distractions while studying or participating in virtual classes.
Other Supplies
Water Bottle – Stay hydrated throughout the day.
Lunchbox or Reusable Containers – Pack healthy and eco-friendly lunches.
Face Masks and Hand Sanitizer – Prioritize health and safety, if required.
Gym Clothes and Shoes – Be prepared for physical education classes.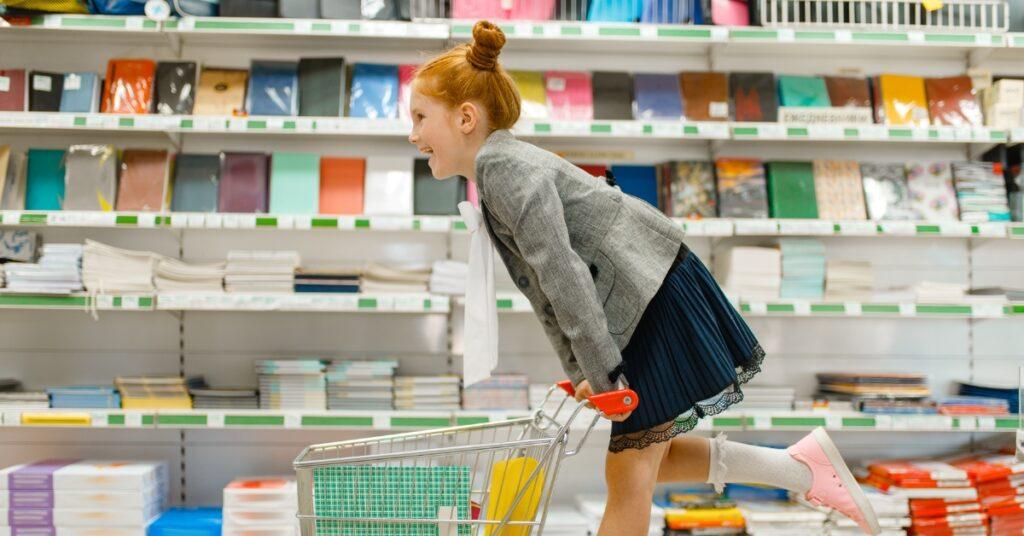 Back to School Shopping Tips
Tip Number One: Budgeting for School Supplies 
As the back-to-school season approaches, it's essential to approach your shopping with a clear budget in mind. Creating a budget not only helps you manage your expenses but also teaches valuable financial skills to students. Here are some steps to consider when budgeting for school supplies:
Assess Your Needs: Start by reviewing the school supplies checklist provided above. Determine what items you already have from previous years and what you'll need to purchase anew.
Set a Realistic Budget: Take a look at your overall financial situation and allocate a reasonable amount for school supplies. Be sure to consider other potential expenses, such as clothing or extracurricular activities.
Prioritize Essentials: Identify the items that are absolutely necessary for the start of the school year. These might include writing materials, notebooks, and a backpack. Allocate a larger portion of your budget to these essentials.
Research Prices: Before heading out to the stores, research prices online or visit store websites to get an idea of the cost of various items. This will help you make informed decisions and avoid overspending.
Shop Sales and Discounts: Keep an eye out for back-to-school sales and promotions. Many stores offer discounts on school supplies during this time, allowing you to get more for your budget.
Stick to the List: Avoid impulse buying by sticking to your shopping list. It's easy to get tempted by flashy displays, but if an item isn't on your list, consider whether it's truly necessary.
Tip Number Two: Support Local Businesses
When it comes to back-to-school shopping, it's not just about checking items off your list—it's also an opportunity to contribute to your community. By choosing to support local businesses, you help stimulate the local economy, create jobs, and build a strong sense of community. Here's why opting for local stores is a great idea:
Personalized Service: Local store owners often provide a more personal and attentive shopping experience. They can offer recommendations based on your needs and preferences.
Quality and Uniqueness: Many local stores offer unique and high-quality products that you might not find in larger chain stores. This allows you to stand out with items that reflect your personal style.
Community Impact: Your purchase directly benefits local families and business owners, helping to create a thriving local ecosystem.
Environmental Impact: Supporting local businesses often means fewer transportation miles for goods, reducing the carbon footprint associated with your purchases.
Foster Relationships: Shopping locally can lead to meaningful connections within your community. You might discover new favorite spots and even forge friendships with store owners.
Tip Number Three: Consider Eco-Friendly Options
As we become more aware of the impact of our choices on the environment, incorporating eco-friendly options into our back-to-school shopping routine is a responsible choice. Here's how you can make environmentally conscious decisions:
Reusable Supplies: Opt for reusable items like water bottles, lunch containers, and shopping bags. These choices reduce the need for single-use plastics and contribute to waste reduction.
Recycled and Sustainable Materials: Look for products made from recycled or sustainable materials. Many eco-friendly options are available, from notebooks to backpacks.
Minimal Packaging: Choose products with minimal or recyclable packaging. Excess packaging contributes to unnecessary waste, so aim for products with less packaging whenever possible.
Quality Over Quantity: Invest in durable, high-quality items that will last longer. This not only reduces waste but can also save you money in the long run.
Secondhand Options: Consider purchasing certain items secondhand, such as clothing or backpacks. Thrift stores and online marketplaces often have gently used school supplies at a fraction of the cost.
By following these back-to-school shopping tips, you'll not only set yourself up for a successful academic year but also make responsible choices that benefit your finances, your community, and the environment. So, as you embark on your shopping journey, remember to budget wisely, support local businesses, and consider the impact of your choices on the planet. Happy shopping and best of luck for the upcoming school year!
Printable Back-to-School Supplies Checklist
For your convenience, we've created a downloadable and printable checklist that you can take along while shopping. It's a handy reference to ensure you don't miss anything on your back-to-school shopping adventure. While we know that every school, classroom, and teacher is different, and they'll all likely have their own supply list, our printable checklist is a good jumping off point to get you started. 
As the academic year beckons, it's time to equip yourself with the tools you need for success. Armed with our comprehensive back-to-school supplies checklist, you'll be ready to tackle each lesson, project, and challenge that comes your way. Remember, choosing local Edmonton stores not only provides you with quality products but also supports the heartbeat of your city. From pens and planners to backpacks and binders, make your back-to-school experience memorable and organized. And before the school year kicks off, why not indulge in an end-of-summer staycation at Edmonton's Best Hotels? Enjoy one last hurrah before the academic journey begins, and ensure you're all set for the year ahead. Here's to a successful and enjoyable academic year for students, parents, and educators alike! 
Know someone who needs to do some back-to-school shopping? Share this post with them!