Travelling with pets has become increasingly popular in recent years as pet owners seek to include their furry companions in their adventures. Edmonton, with its welcoming attitude toward pets and a plethora of pet-friendly amenities, is an ideal destination for those looking to explore the city with their four-legged friends. In this comprehensive guide, we'll delve into the world of pet-friendly hotels in Edmonton, providing you with insights on why travelling with pets is on the rise, Edmonton's reputation as a pet-friendly city, how to choose the right pet-friendly hotel, and a selection of the best pet-friendly hotels in the area. We'll also share tips for a smooth travel experience with your beloved pets, ensuring you have a memorable and hassle-free stay in Edmonton.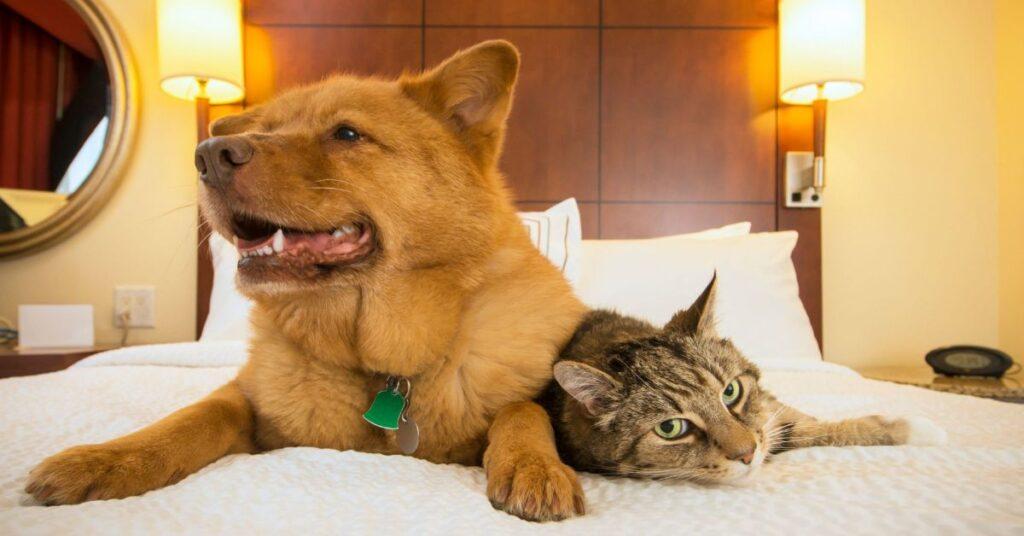 Travelling with Pets: Considerations and Benefits
The idea of travelling with pets is not just a trend; it's a lifestyle choice that offers numerous benefits to pet owners. More and more people are opting to take their pets on vacation, and it's not hard to see why.
Taking your pet along on a trip allows you to spend quality time together, strengthening the bond between you and your furry companion, and having your pet with you can ease the travel-related stress and loneliness that many travellers feel. This can make your trip a far more enjoyable experience.
As pet owners, you know that travelling with your pets isn't just about making it an enjoyable experience for you. Our companions also like seeing new environments, smelling new scents, and experiencing life outside of the regular, just like us! You know what the best part about travelling with your pet is, though? It allows you to keep a close eye on them, so you can be sure that they're always safe in your care – you won't have to worry about separation anxiety or whether or not they're being properly cared for at the border.
Edmonton as a Pet-Friendly City

Edmonton has earned its reputation as a pet-friendly city, with a wide range of amenities and attractions that cater to pets.
For instance, Edmonton boasts many off-leash dog parks where your pup can run and play with its friends. Some of the more popular dog parks in the city include:
Terwillegar Dog Park, 10 Rabbit Hill Rd NW
Buena Vista Dog Park, 3210 Buena Vista Rd NW
Hermitage Park Off-Leash Area, 12904 22 St NW
Lauderdale Dog Park, 127 Ave, NW
Please note that not all of these off-leash dog parks are fully enclosed, so be sure to do your research before deciding which one to take your pup to. If you'd rather take your dog on a hike or even a nice stroll through the city's beautiful natural landscapes, Edmonton has an extensive network of walking trails. The River Valley system offers picturesque views and ample space for you and your pet to explore.
Dog parks aren't the only place your pets are welcome, though. Edmonton is also home to several cafes that welcome your furry friends. Places like Little Brick Café & General Store, Pact Coffee, ACE Coffee Roasters (both their Garneau and West Ritche shops), and Café Bicyclette have outdoor seating areas (and, in the case of Pact Coffee, Rover is welcome inside as well) that cater to pets.
Choosing the Right Pet-Friendly Hotel
Selecting the perfect pet-friendly hotel is one of the most important things you can do when deciding to travel with your four-legged companion. This ensures that you both have a comfortable and enjoyable stay throughout your trip. Here are a few pointers to think about when booking your hotel:
Choose a hotel that is conveniently located near pet-friendly attractions and amenities, such as parks, trails, and pet-friendly cafes.
Look for hotels that offer pet-specific amenities like pet beds, bowls, and even pet-sitting services. These can make your pet feel right at home.
Familiarize yourself with the hotel's pet policies, including any size or breed restrictions and additional fees.
Read reviews from fellow pet owners who have stayed at the hotel to get a sense of their experiences and any potential issues.
Consider the types of accommodations available, such as hotels, motels, or vacation rentals. Choose one that suits your preferences and budget.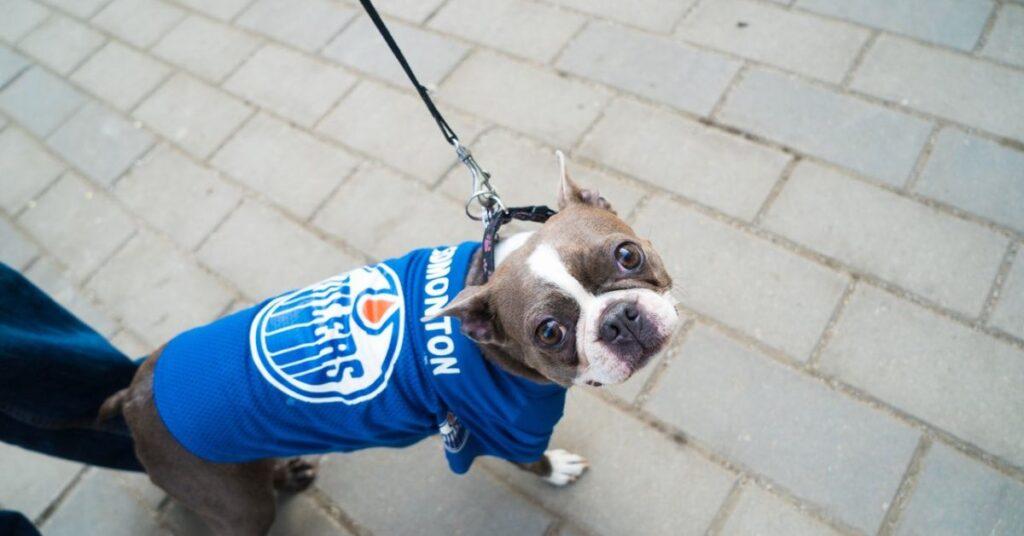 Edmonton's Best Pet-Friendly Hotels
To help you in your search for pet-friendly accommodations in Edmonton, here is a selection of some of the top pet-friendly hotels in the city:
Travelodge by Wyndham Edmonton South, 10320 45 Avenue: For budget-conscious travellers, Travelodge by Wyndham Edmonton South is a fantastic choice. This hotel warmly welcomes pets and ensures a comfortable and affordable stay. Guests can always expect clean and cozy rooms, making it an excellent option for those travelling with their furry companions on a budget.


Fairmont Hotel MacDonald, 10065 100 St NW: If you're seeking a touch of luxury for both you and your pet, the Fairmont Hotel MacDonald is a top-notch option. This elegant hotel not only accommodates pets but also goes the extra mile by providing special amenities and services tailored to your furry friends. With its opulent ambiance and pet-friendly attitude, this hotel offers a pampered experience for both you and your pet.


JW Marriott Edmonton Ice District, 10344 102 St NW: For travellers who appreciate upscale accommodations and breathtaking city views, the JW Marriott Edmonton Ice District fits the bill. This stylish hotel offers a pet-friendly atmosphere, allowing you to enjoy the pinnacle of comfort and sophistication with your pet by your side. Whether you're savouring the cityscape from your room or exploring nearby attractions, this hotel provides an unforgettable experience.


Varscona Hotel on Whyte, 8208 106 St: Located on the vibrant Whyte Avenue, the Varscona Hotel offers boutique charm and a warm welcome to pets. This hotel not only embraces your furry companion but also boasts a lively atmosphere. Explore the eclectic mix of shops, restaurants, and cultural experiences in the neighbourhood, all while enjoying the convenience of pet-friendly accommodations.


Matrix Hotel, 10640 100 Ave NW: Situated in downtown Edmonton, the Matrix Hotel is a contemporary gem that caters to both human and pet guests. Its pet-friendly policy ensures that your four-legged friend can accompany you while you explore the city's attractions. With its central location, you'll have easy access to Edmonton's cultural and entertainment offerings.


Metterra Hotel on Whyte, 10454 82 Ave NW: Located on the trendy Whyte Avenue, Metterra Hotel welcomes pets, with a maximum of two pets per room, each weighing up to 40 pounds. There is a $20 fee per pet, per night. The hotel provides a contemporary hospitality experience and is ideally situated for business travellers near the University of Alberta, downtown, and south Edmonton business districts. You can explore the city's most walkable district with boutiques, cafés, and parks just steps away.


Home2Suites by Hilton West Edmonton, 16675 109 Ave NW: This pet-friendly hotel is minutes from West Edmonton Mall and offers easy access to local exploration. Enjoy a complimentary breakfast or cook your own meals in your in-suite kitchen. Bring your dog or cat along to enhance your stay.


Hyatt Place Edmonton-West, 8004 100 Ave NW: Located near the West Edmonton Mall, the Hyatt Place offers pet-friendly accommodations. Enjoy the convenience of being close to one of North America's largest shopping malls while staying in an environment that welcomes your four-legged friend.


Candlewood Suites West Edmonton, 18520 100 Ave NW Bldg 1: Welcome to your home away from home at the new Candlewood Suites Hotel West Edmonton, the newest extended stay property in West Edmonton. Business travellers will benefit from its proximity to local business and industrial areas. Enjoy world-class shopping and entertainment at West Edmonton Mall, just minutes from the hotel. Candlewood Suites is pet-friendly, with pets under 80 pounds welcome for a fee of $25 per pet, per night.


Hampton Inn & Suites by Hilton Edmonton West, 18304 100 Ave NW: Situated off Highway 216 and close to the West Edmonton Mall, this hotel offers a range of amenities, including a free hot breakfast, WiFi, fitness center, indoor pool, and whirlpool. Pet-friendly rooms make it a convenient choice for travellers with pets.
Each of these hotels has unique features and amenities, so be sure to check their specific pet policies and offerings to find the one that best suits your needs and preferences. That's not all, though! All of the above are member hotels of Edmonton's Best Hotels, which means they all qualify for our 1, 2, 3 Reward Deal, where you can get up to $225 in rewards for your stay!
Tips for a Smooth Travel Experience with Pets
Travelling with pets requires some preparation to ensure a smooth and stress-free experience for the both of you. Here are some of our practical tips for a successful trip with your companion:
Pack your pet's essentials, including food, water, bowls, leash, collar with ID tags, medications, and any comfort items like blankets or toys.
Visit your veterinarian before the trip to make sure your pet is up-to-date on vaccinations and in good health for travel.
If your pet is crate-trained, bringing a familiar crate can provide a sense of security during travel and in your hotel room.
Introduce your pet to the hotel room gradually, allowing them to get comfortable with the new environment.
Stick to your pet's regular feeding, exercise, and bathroom routines as closely as possible.
Always be mindful of other guests and hotel staff. Keep your pet on a leash in common areas and clean up after them.
Edmonton is a welcoming and pet-friendly destination that offers a wealth of opportunities for both you and your furry friend to enjoy. Travelling with pets has become a rewarding and popular trend in recent years, allowing pet owners to create lasting memories with their beloved animals.
By choosing the right pet-friendly hotel, exploring the city's pet-centric attractions, and following practical tips for a smooth travel experience, you can ensure a memorable and enjoyable trip to this incredible city with your pet. Embrace our pet-friendly culture and embark on an adventure that both you and your pet will cherish.
Don't miss out on the opportunity to explore Edmonton's pet-friendly offerings and plan your next trip with your beloved companion by your side. Your pet will thank you, and you'll create unforgettable memories together. Visit Edmonton's Best Hotels to take advantage of our 1, 2, 3 Reward Deal to get up to $225 in rewards and make your trip to Edmonton even more rewarding. Use the Pet Friendly filter to ensure you're booking a hotel that allows you to bring your pet with you.
Know someone that have a Pet? Share this post with them!