When the snowflakes start to fall and the air gets crisp, there's a special kind of magic that descends upon Edmonton. The city transforms into a winter wonderland, offering a plethora of activities to enjoy during the cold months. From outdoor ice skating to thrilling snow adventures, you'll always find something to do during the colder months in Edmonton. If you're taking a trip to our fair city this winter or are an Edmontonian looking to make the most of your favourite season, you'll find everything you need to know in this blog.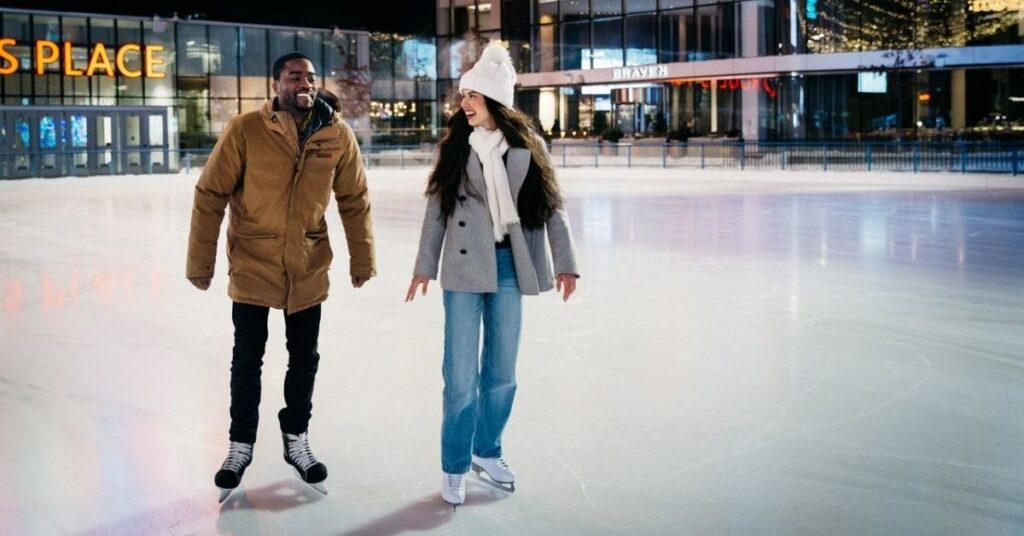 Outdoor Ice Skating
Edmontonians have a special affinity for ice skating. It's not just a sport here; it's a way of life during the winter months. Whether you're a seasoned skater or are just starting out on wobbly ankles, there are so many outdoor rinks to explore. One of the most enchanting options is the Victoria Park IceWay. This meandering ice path takes you through the heart of the city, offering breathtaking views and a unique skating experience.
If you're looking for a more traditional rink, you can visit the City Hall Skating Rink or the iconic Ice on Whyte Festival, which offers a stunning display of ice sculptures and a fantastic outdoor skating experience.
Pro Tip: To enjoy the most memorable ice skating experience, try to go early in the morning or late in the evening when the rinks are less crowded. Don't forget to bundle up in warm layers, and a hot beverage from a nearby café can be the perfect finishing touch to your skating adventure.
Rabbit Hill Snow Resort

If you're looking for a more adrenaline-packed experience, Rabbit Hill Snow Resort is the place to be. Located just south of Edmonton, this resort offers everything you need for a day filled with winter excitement. From seasoned skiers to first-time snowboarders, everyone finds a slope and terrain perfect foir their skill levels at Rabbit Hill.
The resort also offers equipment rentals and lessons for beginners, making it the perfect spot for those who want to try their hand at winter sports without any prior experience.
Pro Tip: If you're new to skiing or snowboarding, be sure to take a lesson. The knowledgeable instructors at Rabbit Hill Snow Resort will have you carving down the slopes in no time.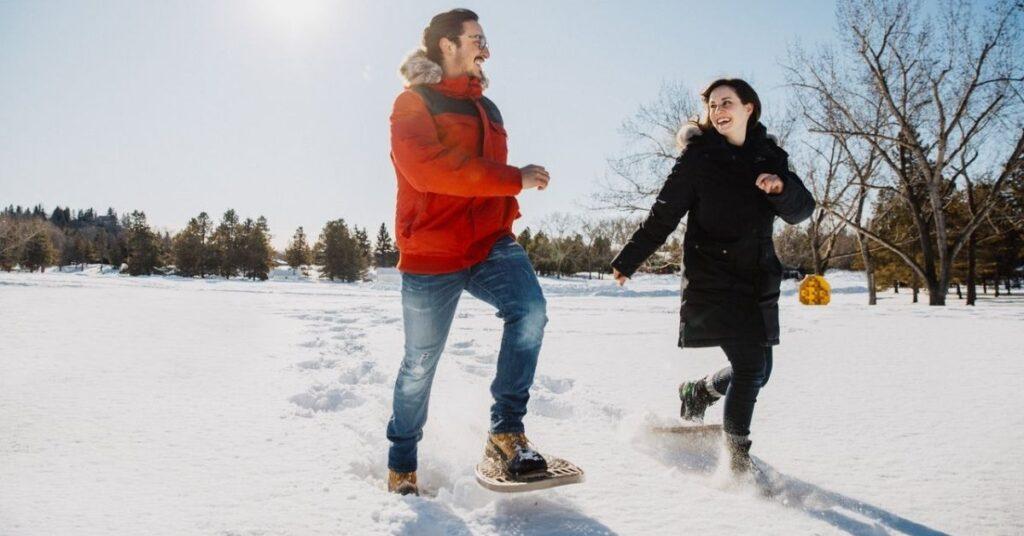 Snowshoeing Adventures
Sometimes, we all want a more serene experience, and snowshoeing is the perfect way to embrace the tranquility of winter in Edmonton. You don't need any special skills, and it's an accessible activity for people of all ages.
Some of the best snowshoeing locations in and around Edmonton include Elk Island National Park, Chickakoo Lake Recreation Area, and the Edmonton River Valley. These areas offer serene, snow-covered landscapes that are perfect for a winter hike.
Pro Tip: Snowshoeing is an excellent activity for birdwatching, so be sure to bring your binoculars if you're a fan of our feathered friends (be sure to keep an eye out for the Northnern Shrike, Snow Bunting, and the Ruffed Grouse. Here's a full list of the winter birds you can see here in Edmonton). Also, consider packing a thermos of hot cocoa to enjoy during a trailside break.
Snow Valley Ski Club
Another great option for skiiers and snowboarders is the Snow Valley Ski Club. Nestled in the picturesque river valley, this club offers a variety of trails and slopes for skiers and snowboarders of all levels.
In addition to the thrilling activities on the slopes, Snow Valley Ski Club provides comfortable lodges and dining options, making it a welcoming destination for a full day of winter fun.
Pro Tip: Check out the club's night skiing sessions for a unique experience. There's something truly magical about carving your way down the slopes under the stars.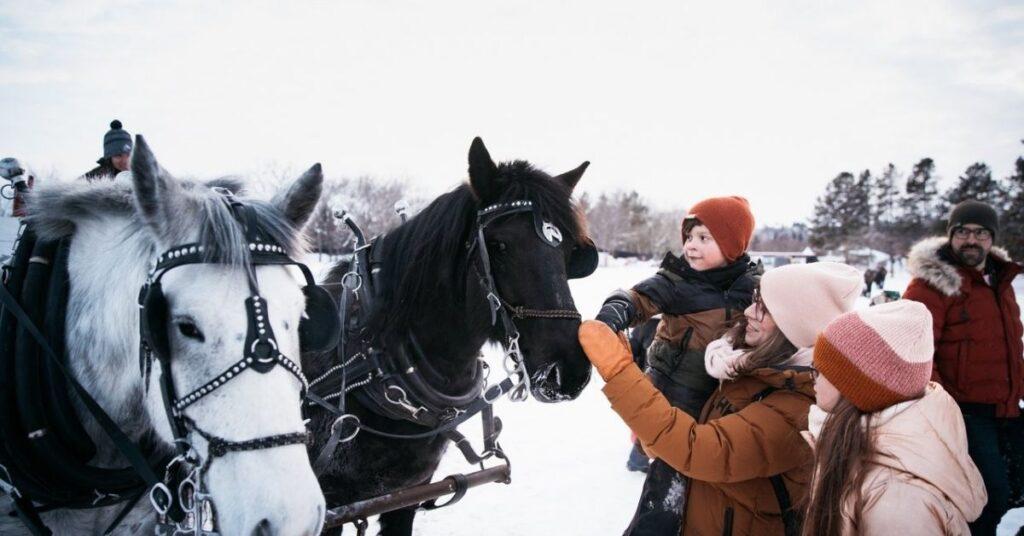 Cross-Country Skiing
For those who prefer a slower-paced winter adventure, cross-country skiing is another great option. Edmonton boasts a network of well-maintained trails that are perfect for this type of skiing. You can explore parks like Elk Island National Park or enjoy the picturesque trails in Terwillegar Park.
Beginners can rent equipment and take lessons at many of the local ski clubs, while experienced skiers will find challenging terrain in several locations around the city.
Pro Tip: Cross-country skiing is not only a great workout but also a peaceful way to enjoy the beauty of the winter landscape. Dress in layers to stay warm and consider bringing a backpack with snacks and hot beverages to keep your energy up during your adventure.
Sunridge Ski Area
Families and beginners looking for a welcoming and friendly environment will love the Sunridge Ski Area. This family-oriented ski hill offers a range of ski and snowboarding options suitable for all skill levels. You can even try out tubing for a fun, fast-paced, adrenaline-fuelled downhill adventure.
Sunridge Ski Area provides a great atmosphere for families and friends to enjoy the winter together. With features like a terrain park and special events, there's always something exciting happening on the slopes.
Pro Tip: Sunridge Ski Area is known for its fun après-ski activities. After a day on the slopes, relax with hot chocolate and snacks in the cozy lodge.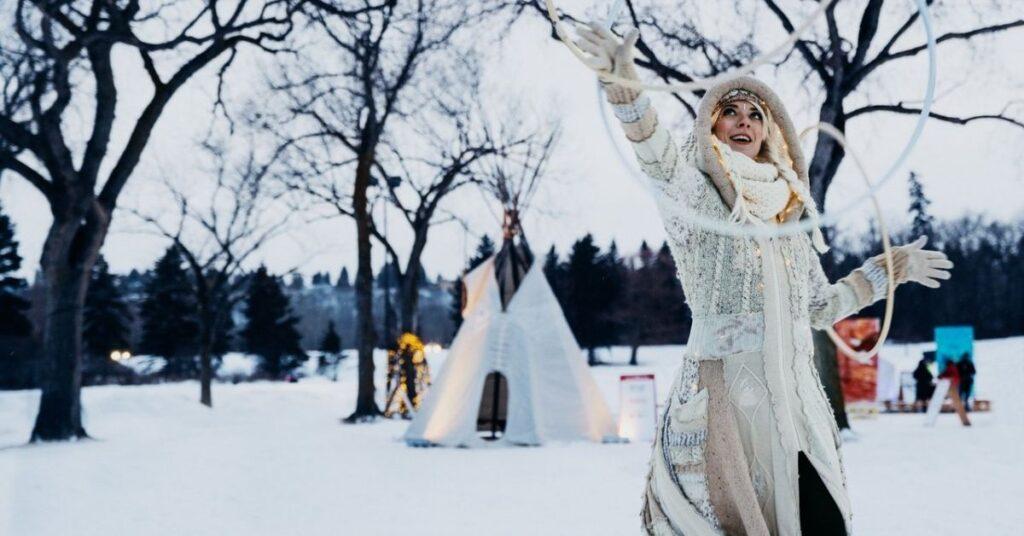 Winter Festivals in Edmonton
Edmonton is a city that knows how to celebrate winter, and it does so with many incredibly fun and welcoming festivals that bring the community together – we're known as Festival City for a reason, after all! These festivals embrace the cold and create a joyful atmosphere that's infectious. Here are some of our favourite winter festivals:
Ice on Whyte Festival
Held in late January, the Ice on Whyte Festival is a magical celebration of ice and snow. It features stunning ice sculptures created by artists from around the world. You can wander through the enchanting ice gardens, sip on hot cocoa, and even try your hand at ice carving.
Silver Skate Festival
The Silver Skate Festival takes place at Hawrelak Park and offers a diverse range of winter activities. From skating on the frozen lake and fatbike racing to snow sculpting, fire sculpting, and storytelling, this 10-day festival is the perfect combination of winter sports, culture, art, recreation, and education. It's a true celebration of Edmonton's winter spirit.
Deep Freeze: A Byzantine Winter Festival
This unique festival celebrates the cultural diversity of the community in a playful way. With ice and snow sculptures, live performances, and an artistic vibe, it's a must-visit event for those who want to explore Edmonton's vibrant artistic scene.
Flying Canoë Volant Festival
A celebration of French Canadian and Métis culture, the Flying Canoë Volant Festival is a whimsical and enchanting event. You can join a lantern-lit procession through Mill Creek Ravine Park and enjoy live performances, storytelling, and delicious cuisine.
Tomo Arts Market
Tomo Arts Market is an artist alley, located just off Whyte Ave, brought to life by a collective of artistic friends who specialize in alternative art styles, adorable merchandise, anime prints, comics, and a whole lot more! This two-day market runs December 16th and 17th, and is free to enter, though ticket reservations are suggested as the venue is small and reaches capacity quickly.
Winterruption YEG
Winterruption YEG, held in January each year, is a multi-venue music and arts festival spanning across downtown Edmonton. This inclusive community event features a mix of free and paid outdoor activities and indoor performances, fostering collaboration with Edmonton's arts community and winter festivals across Western Canada.
International Festival of Winter CinemaWinterruption YEG
The International Festival of Winter Cinema is a unique celebration of the art of local and international winter, alpine, and polar-themed films. The best part of this festival is getting to watch the films on the IFWC's giant snow screen! So this February, get out there and enjoy these captivating stories while being surrounded by the city's winter charm.
All is Bright Winter Lights FestivalInternational Festival of Winter CinemaWinterruption YEG
The All is Bright Winter Lights Festival is a magical event that brightens up the winter nights with dazzling light displays, beverage gardens, children's activation station, and more. With the addition of Relik – Edmonton's award-winning hip hop fusion artist – this festival promises to be even more incredible this year!
Winterfest
This delightful and FREE family event promises a world of entertainment, featuring dancers, live holiday music, and even a special visit from the one and only Santa Claus. Need to get some holiday shopping done? Explore the holiday vendor stalls offering a diverse array of unique treasures, perfect for your holiday gift list. And don't forget to seize the opportunity to bid on some of the Christmas trees and centerpieces!
Canadian Birkebeiner Ski FestivalInternational Festival of Winter CinemaWinterruption YEG
For those who love cross-country skiing, the Canadian Birkebeiner Ski Festival is an exciting and challenging three-day event. With various race categories and skill levels, this festival is perfect for both seasoned skiers and beginners, offering a thrilling way to enjoy the winter landscape. To top it off, the Birkie is one of only three Birkebeiner Loppets in the world! So don't miss it!
Pro Tip: Check the festival schedules in advance to plan your visit. Many of them offer workshops and interactive experiences, so you can dive even deeper into these fantastic festivities.
Warm Up with Edmonton's Culinary Scene
After a day of outdoor adventures or festival exploration, it's time to warm up and refuel. Edmonton's culinary scene offers so many options, from hearty comfort food to fine dining.
Visit a cozy restaurant to enjoy classic Canadian comfort food like poutine or tour local breweries to savour craft beers that will warm you from the inside out. Don't forget to try regional specialties like bison and elk dishes, which are both delicious and an essential part of Alberta's culinary heritage.
Pro Tip: If you're out and about exploring festivals, keep an eye out for food stalls offering warm dishes. A steaming bowl of homemade soup or a hearty sandwich can be the perfect way to stay cozy and content.
Tips for Staying Warm
Edmonton winters can be challenging – especially if you're a visitor who may not be used to them – but with the right preparation, you can fully enjoy the season. Here are some essential tips for staying warm and comfortable during your winter adventures:
Dress in layers to trap warmth and regulate your body temperature. You can always take a layer off if you get too hot.
Quality winter clothing, including insulated boots and waterproof gloves, is an important part of enjoying our crisp Edmonton winters.
Physical activity generates heat, so stay active to stay warm.
When participating in outdoor activities, schedule regular indoor breaks to warm up.
Many parks and outdoor venues offer warming stations where you can take refuge from the cold.
Winter in Edmonton is more than just a season; it's an experience waiting to be embraced. With a diverse range of activities, from ice skating to skiing, snowshoeing, and winter festivals, there's something for everyone in your family to enjoy. So, don't let the cold keep you inside. Bundle up, get out there, and make the most of Edmonton's winter wonderland.
If you're planning a trip to Edmonton this winter, be sure to book your stay through Edmonton's Best Hotels to take advantage of our 1, 2, 3 Reward Deal. You can get up to $225 in rewards just for staying in one of our luxurious member hotels!
Know someone that likes the winter? Share this post with them!