Edmonton has a vibrant food scene, populated by passionate foodies who love to explore the city's options for dining out. From food trucks to high-end bistros, there are plenty of choices available – hundreds, in fact. It's no wonder that our city's restaurants often show up on national and international culinary lists! Whether you're looking for a casual bite or a five-star meal, you can find it here in Edmonton. But with so many restaurants to choose from, it can be hard to know which one is the best. That's why we've put together this guide to the three best restaurants in Edmonton right now.
Bonus: Read to the end for some quick tips on dining out in Edmonton!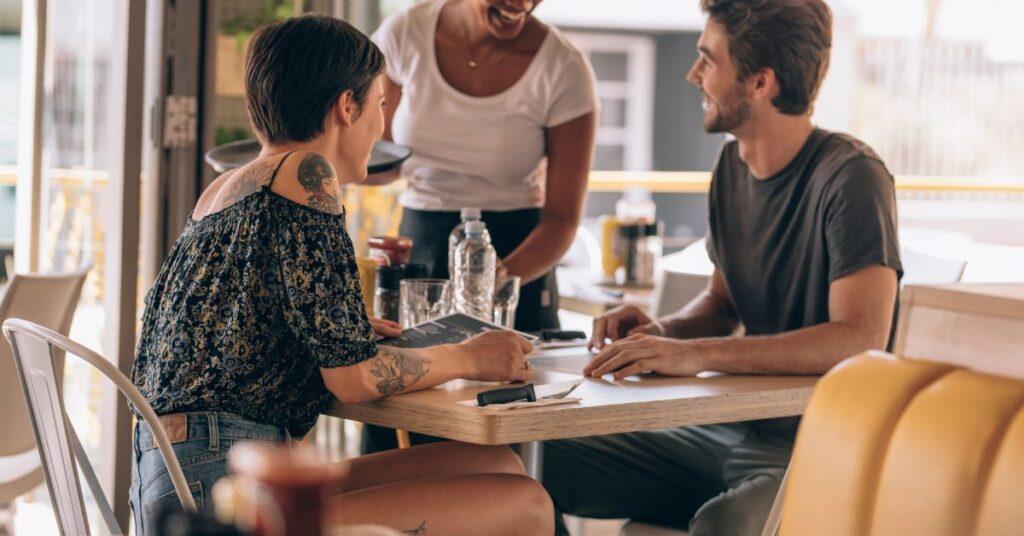 Determining Edmonton's Top Three Restaurants
You may be wondering how we decided which restaurants made our list. It was a combination of research of other Top Edmonton Restaurants lists and personal taste. We don't pretend that we've had the pleasure of eating at every one of the hundreds of restaurants around Edmonton, but we've definitely eaten at a lot of them!
An outstanding dining experience is influenced by a number of factors. First, the meal must be extraordinary. It should be perfectly prepared, attention-grabbingly inventive, and reliably exceptional, no matter which dish you choose. The atmosphere should be pleasant, the staff should be competent and attentive, and the price should reflect all of the above without breaking the bank.
Food quality was our number one factor in creating this list. We wanted to ensure that any restaurants we recommend are serving up high-quality, top-notch cuisine on the regular. This one is pretty obvious.
Atmosphere came in a close second because as we all know, dining out isn't just about the food, it's about the experience as a whole. It doesn't matter how good a restaurant's food is, if the atmosphere is off, it can set the whole tone of the evening onto a negative path. That was something we actively wanted to avoid when curating this list for you.
And third, even though it's not all about cost… it's kind of about cost, right? Yes, if you're splurging on a night out, the price of the meal isn't what's important, but getting a bad meal for a high price isn't something anyone wants either.
Now, without further ado, let's dive into our choices for Edmonton's Best Restaurants.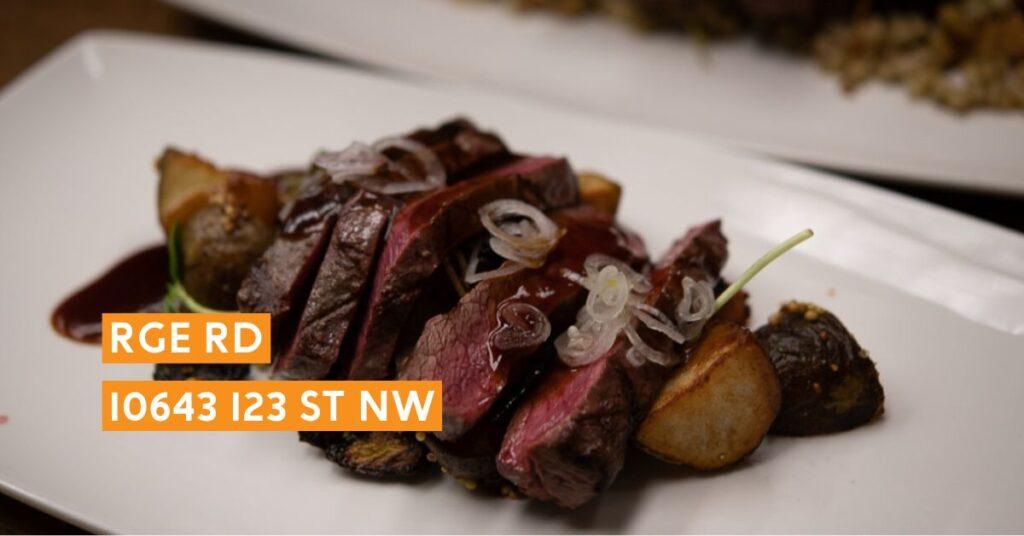 Edmonton's Best Restaurants: RGE RD 
If you're looking for a delicious farm-to-table dining experience in one of the trendiest spots in Edmonton, then you should definitely check out RGE RD. Just off 124th street, this restaurant offers fresh, locally-sourced ingredients, prepared with care and presented in a stylish setting. The menu changes seasonally, so you can expect to find something new and exciting every time you visit. The chefs here take pride in creating unique dishes that are full of flavour and texture. And they don't skimp on the details – each dish is served with a perfect combination of spices and sauces that make it truly unique.
The atmosphere in RGE RD is also top-notch. The spacious dining area is modern and stylish, and the staff is friendly and attentive. Whether you're looking for a romantic dinner for two or a fun night out with friends, RGE RD is the perfect place to enjoy an unforgettable meal.
RGE RD focuses on the use of wood fire cooking and whole animal butchery, creating cuisine that highlights the flavours of the prairie region. These dishes are prepared with a combination of time-honoured methods passed down through generations and modern cooking techniques, all done with enthusiasm, respect, and knowledge of the ingredients in season. So if you're in Edmonton, make sure to check out RGE RD — it's sure to be an experience you won't forget!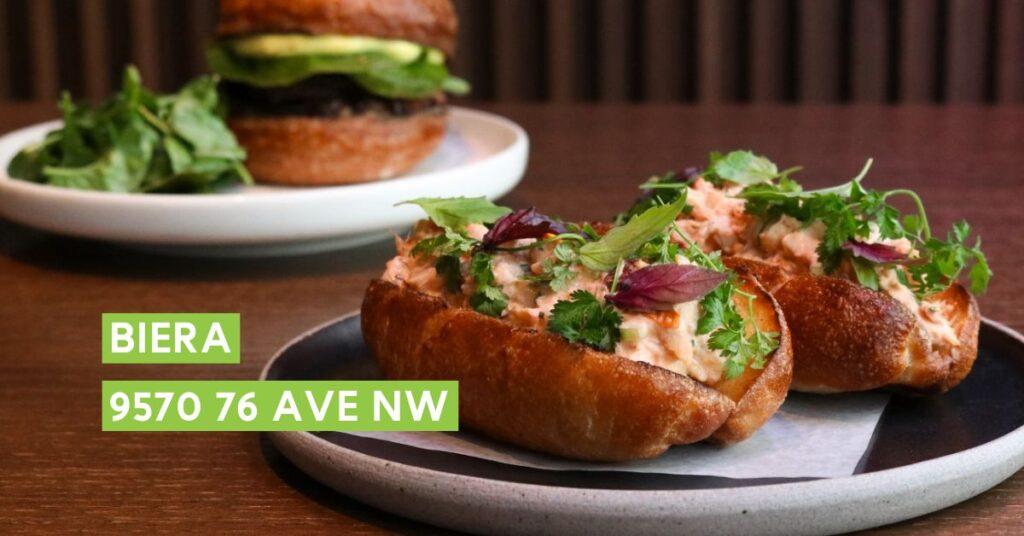 Edmonton's Best Restaurants: Biera
Taking the second spot on our list is Beira. Biera is consistently one of the top-rated restaurants in Edmonton – no matter who you ask! Boasting a fusion of both traditional and modern cuisine, it's worth a try for anyone looking for a truly exquisite dining experience. 
Their menu offers a wide variety of dishes, from appetizers to mains to desserts (the sourdough nuggets are to die for!). Whether you're looking for a light snack or a full-course meal, Biera will have something to suit your tastes.
The restaurant also uses only the freshest ingredients, ensuring that the food is of the highest quality. And the presentation — from the table settings to the food itself — is absolutely stunning. Add in excellent service and you have a restaurant that is truly one of a kind. If you're looking for a great eatery in Edmonton, you can't go wrong with Biera. And while you're there, be sure to check out their award-winning brewery, Blind Enthusiasm Brewing Company, located directly within the restaurant itself. It's a traditional brewpub with a fine dining twist in the heart of the walkable Ritchie neighbourhood!
Edmonton's Best Restaurants: Uccellino
A modern trattoria serving seasonal Italian dishes in the heart of downtown on Jasper Avenue, Uccellino is one of the best Italian restaurants in Edmonton. From their hand-crafted pasta dishes to their perfectly cooked striploin or sablefish, Uccellino has something for everyone. 
The restaurant also offers a delectable tasting menu, available daily until 8:30 pm. Plus, their extensive list of wines (seriously, their wine menu is longer than their food menu) from across the globe will complement any meal – ask your server about wine pairing! And don't forget to grab a mouthwatering dessert before you leave! We promise, you'll want to save room for their Chocolate Budino or Olive Oil Cake!
The atmosphere at Uccellino is warm and inviting, making it the perfect spot for a romantic dinner or a lively night out with friends. Add to that their attentive staff and reasonable prices, and it's no wonder why Uccellino is one of the top-rated restaurants in Edmonton. So if you're looking for a unique dining experience, be sure to check out Uccellino. You won't be disappointed!
Tips for Dining Out in Edmonton
When it comes to dining out in Edmonton, there are a few tips you should keep in mind. 
First, plan ahead. Edmonton's restaurants can fill up quickly, so if possible, you should always make reservations at least a day in advance, especially during peak times. This will help ensure that you get a spot at the restaurant of your choice without having to wait in line.
Secondly, if you can't make reservations and you're flexible on where you'd like to eat, consider heading to an area with lots of restaurants within walking distance. Try 124th or 104th Streets Downtown, The Ice District, Jasper Avenue, or Whyte Avenue. This way, you only have to park or Uber once and you're never far from a variety of options in case your top pick is full!
Next, remember to always tip your server! Whether you've worked in the hospitality industry or not, you likely understand how hard restaurant staff — especially servers — work to offer prompt, courteous service. Leaving your server a tip is a tangible way to express your gratitude for all they did to make your dining experience memorable. Tipping standards in Edmonton start around 18%.
And finally, if you plan to imbibe during your night out, please don't drive home. With 50+ hotels throughout the city, Edmonton's Best Hotels is always here to help you have a safe place to lay your head after you've thoroughly enjoyed Edmonton's dining and nightlife.
Edmonton is home to an incredible restaurant and hospitality industry, with plenty of dining options to choose from. But with so many restaurants across our fair city, it can be hard to know which one is the best option for you! From RGE RD to Uccellino and everything else, you're sure to find something to suit your tastes every day of the week. So, what are you waiting for? Book your stay through Edmonton's Best Hotels, get up to $225 back in FREE rewards, and start exploring our city's incredible food scene now!
Know someone who's a certified foodie and loves to eat their way through different cities? Share this post with them!