Thanks to its vibrant culture and diverse attractions, Edmonton has become a popular destination for tourists. As a result, the city's tourism industry has experienced tremendous growth in recent years, with more businesses opening up each year. As the industry expands, Edmonton continues to become an even more attractive destination for tourists! Additionally, the city's tourism industry has positively impacted its local economy, creating jobs and providing a boost to businesses in the area.
The city has seen an increase in the number of unique attractions that it has to offer. From the world-renowned Edmonton Fringe Festival to local favourites like Urban Pedal Tours, Edmonton has become a must-visit destination for tourists from around the world. The city is home to numerous small and large businesses that offer unique experiences for tourists, making it a destination of choice for travellers.
Let's Take a Look at Some Visitor Favourites!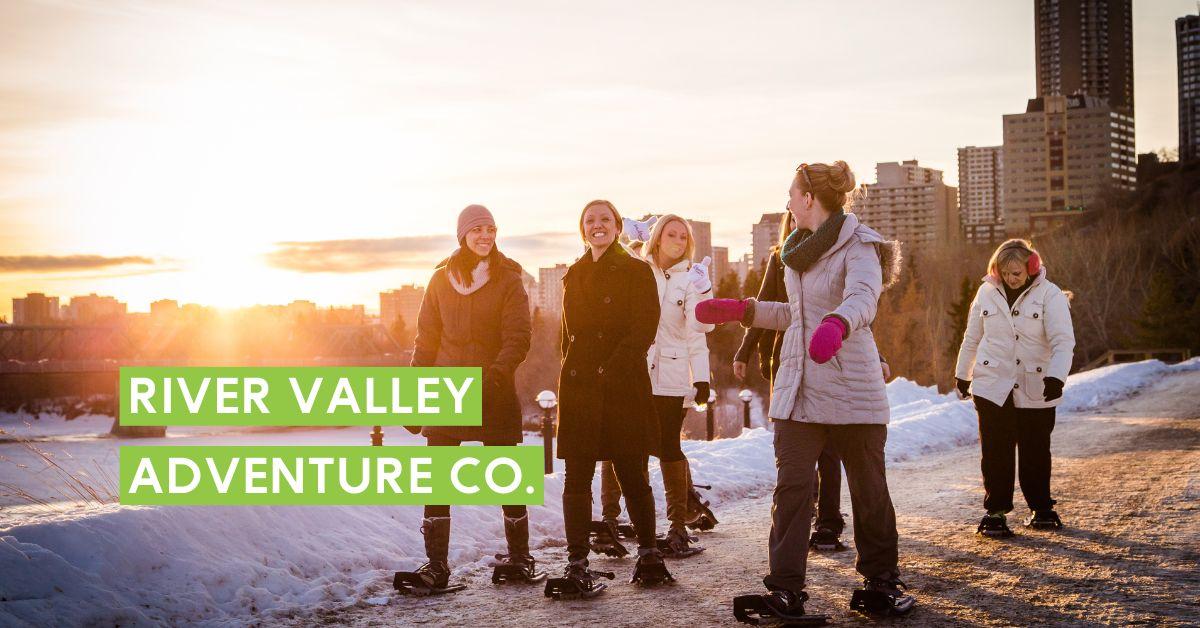 River Valley Adventure Co.
River Valley Adventure Co. offers a variety of fun services for the adventure seekers among us, including kayaking, canoeing, and hiking. Explore the beauty of Edmonton's River Valley in the fresh air alone or with a guided tour. The guided tours give tourists the opportunity to learn more about the city's rich history and culture. 
Pro tip: Decompress after your adventure with a drink on the all-season patio!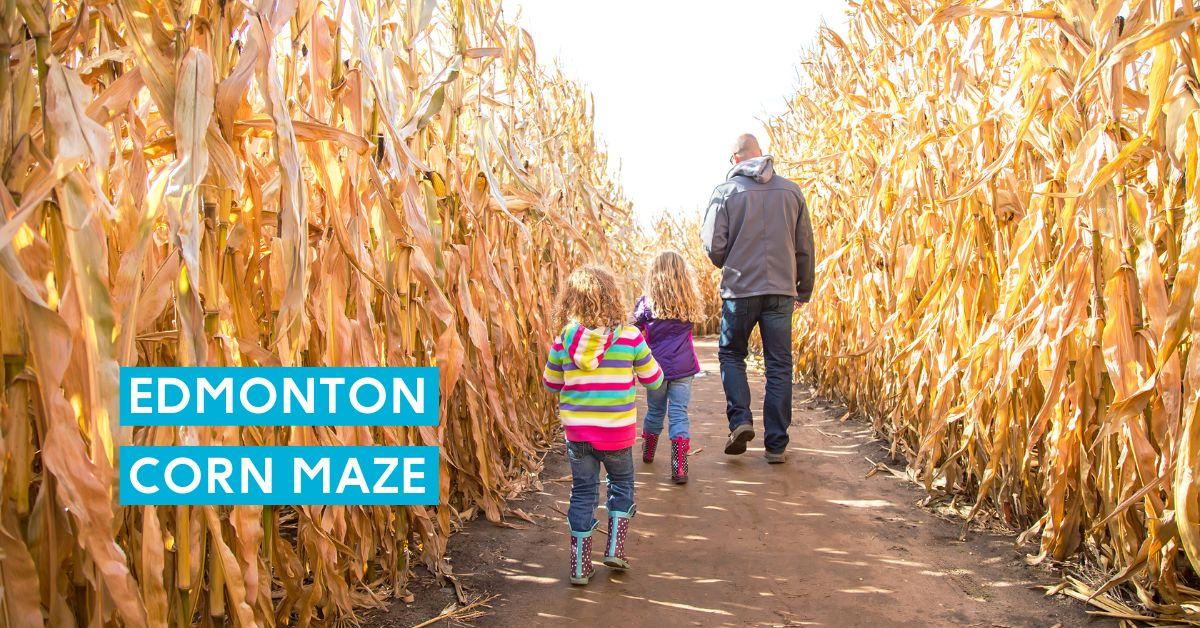 Edmonton Corn Maze
If you're looking for a unique experience on your getaway, then definitely check out the city's iconic corn maze! And when you're done with the maze, there's so much more to do! Go on a hay ride, play a round of mini golf, and give some love to the animals in the petting zoo. On your way out, stop at the general store & pick up some farm fresh treats – that is, if you can get the kids off of the bouncing pads… It's the perfect family day out and only a 20 minute drive from West Edmonton! 
Pro tip: The maze is split into two sides, so why not make a little friendly competition and split up your group to see who can make it out first!
Talking Rock Tours
Talking Rock Tours offers guided discovery tours of some of Edmonton's best adventures, including Elk Island and the River Valley. This allows tourists to explore the city in a safe and enjoyable way. So whether you want to walk, bike, or even snowshoe, an outdoor adventure awaits you with Talking Rock. For those willing to take a detour out of the city, this incredible tour company also offers tours in some iconic Alberta locales like the Badlands and Nordegg.
Pro tip: For a truly unique Edmonton adventure, ask Talking Rock about their custom tour options! Just make sure to give them at least one month's notice before your trip to design your perfect tour.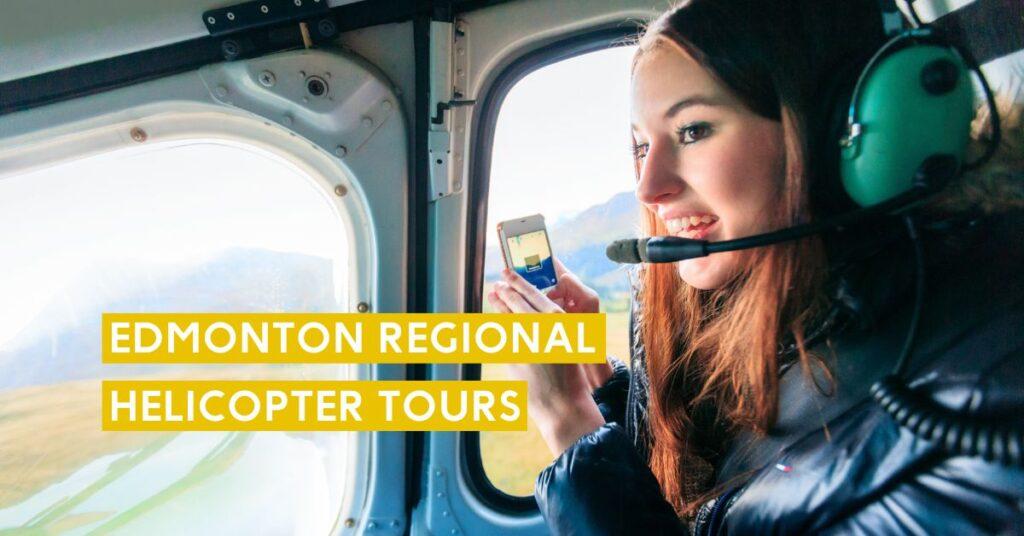 Edmonton Regional Helicopter Tours
See the city from a bird's eye view! Edmonton Regional Helicopter Tours offers private aerial tours of the city and River Valley. Experience the breathtaking view of Edmonton in the comfort of an air-conditioned helicopter, or add a touch of excitement by removing the doors if you dare! They also offer sightseeing tours, photography tours, and special events. They even offer 40 minute flights to see the Rocky Mountains!
Pro tip: Want to surprise a special someone for a birthday, anniversary, or even a proposal? What better way to do it than with a private river valley helicopter tour complete with a picnic & prosecco!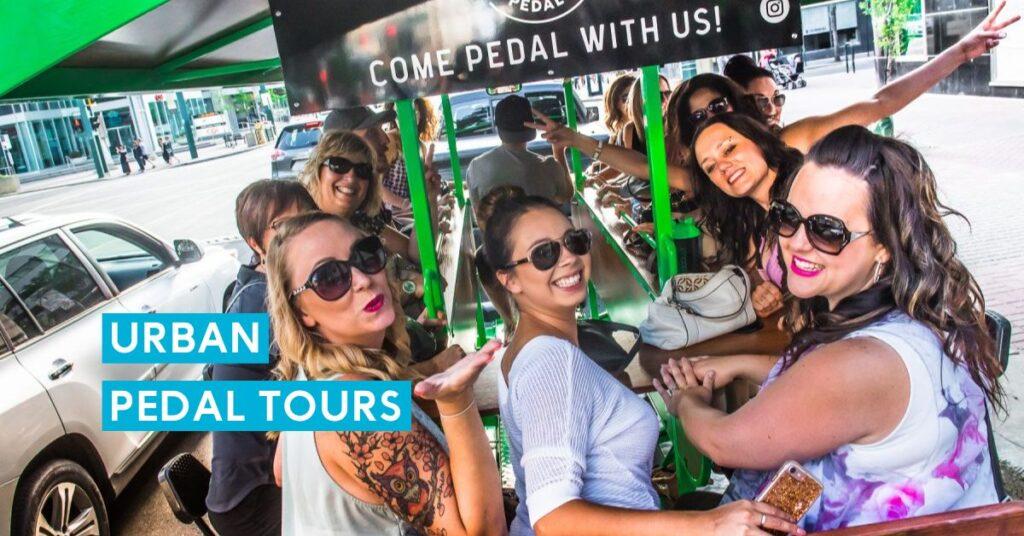 Urban Pedal Tours
Ride around the city in style with Urban Pedal Tours! See the city from a new perspective with their guided, pedal-powered tours! Embark on a memorable, human-powered excursion to explore Edmonton's signature neighbourhoods, craft brewery districts, and top tourist destinations. So hop on one of their giant bikes and start pedalling!
Pro tip: Urban Pedal Tours makes the perfect gals or guys trip to the city. Even if you don't fill the whole bike with your group, rest assured you'll be able to make new friends along the way!
Alberta Art Gallery
The Alberta Art Gallery is a world-class institution located in the heart of Edmonton. This stunning gallery showcases some of the finest works of art from local, national, and international artists. From contemporary masterpieces to historical treasures, the collection at the Alberta Art Gallery will captivate and inspire visitors of all ages. Whether you're an art aficionado or simply looking for a unique and enriching cultural experience, visiting the Alberta Art Gallery is a must. 
Pro tip: Love to travel and experience culture across the country? Check out the Explore Membership at the AGA and gain admission to more than 10 Canadian museums and galleries!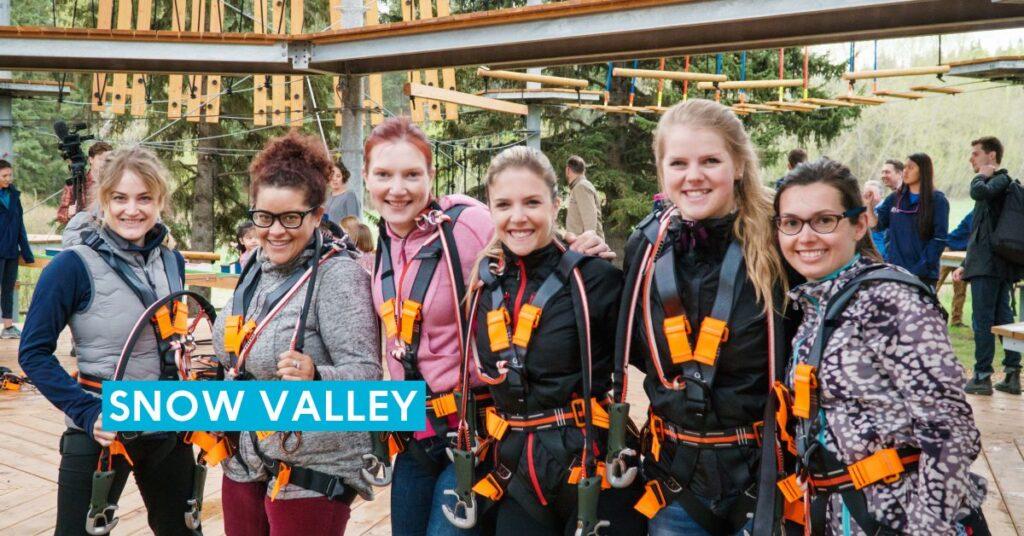 Snow Valley
Contrary to what you might think, Snow Valley isn't just a snow lover's paradise! Quite the opposite actually, as it operates year round as a winter and summer playground for the whole family. In the winter, hit the slopes for skiing and snowboarding, or enjoy some indoor fun at the Lodge. Visiting Edmonton in the summer? No problem! Choose your own adventure with some high-flying fun at the Snow Valley Aerial Park, or use the sluice Whitemud Creek Mining Co. to search for real gems and fossils. 
Pro tip: Snow Valley has direct access to Edmonton's River Valley trail system, so before you pile back into the car after enjoying your adventures in the park, take a walk through the trails along Whitemud Creek – they're well signed and can take you along for hours if you're so inclined! River Valley trails are generally open year round, but make sure you check the City of Edmonton for periodic trail closures in the winter & spring, and don't forget the bug spray in the summer!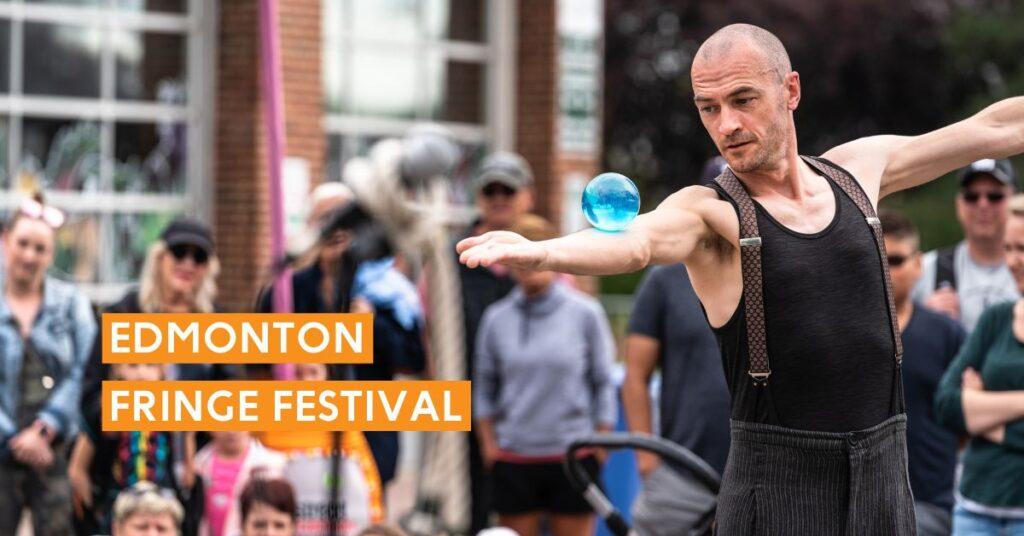 Edmonton Fringe Festival
The Edmonton Fringe Festival is a world-renowned cultural event that takes place every year in Edmonton, Canada. This festival celebrates the arts, featuring a diverse lineup of performances, including theatre, music, dance, comedy, and much more. The festival provides a platform for both established and up-and-coming artists to showcase their talent, making it a must-see event for anyone interested in the arts. 
Pro tip: The Fringe takes place just off Whyte Ave, and all of Old Strathcona really gets into the spirit of things. Don't expect to find parking right by the festival, especially on a weekend. Park just south of Whyte in Queen Alexandra, then walk a few blocks – on your way you can check out the shops & restaurants that line the Ave!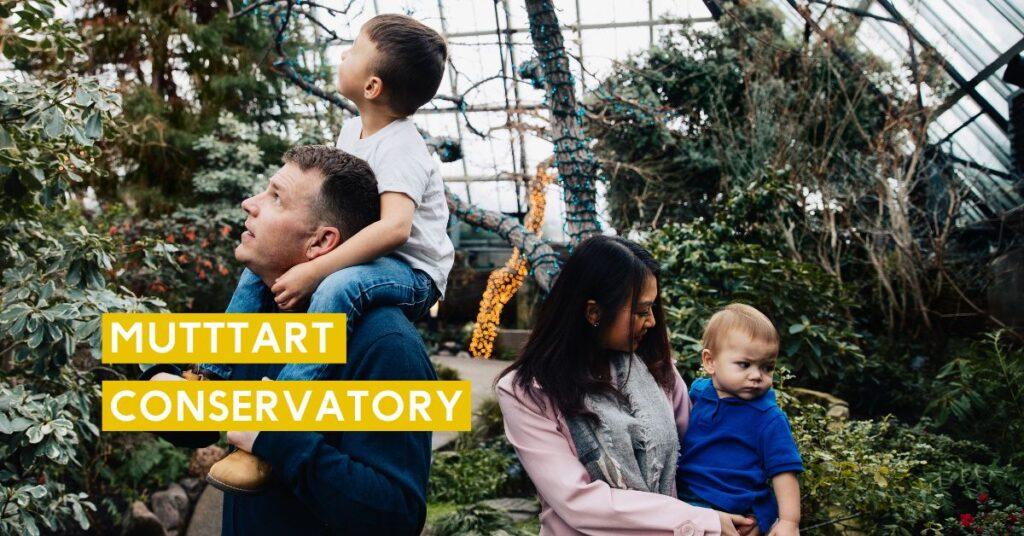 The Muttart Conservatory
The Muttart Conservatory is a unique and beautiful botanical garden located in the heart of Edmonton. With its iconic pyramid-shaped greenhouses, the Muttart offers visitors the chance to explore and enjoy a diverse range of plants from around the world all year round. From the lush rainforest of the Tropical Pyramid to the arid landscapes of the Arid Pyramid, you'll be whisked away to a new place with every greenhouse.
Pro tip: Visiting around the holidays and looking for a little 'kid-free' time? The Muttart really lights up in December with adults only hours where you can purchase a beverage and stroll through the Pyramids enjoying holiday light displays!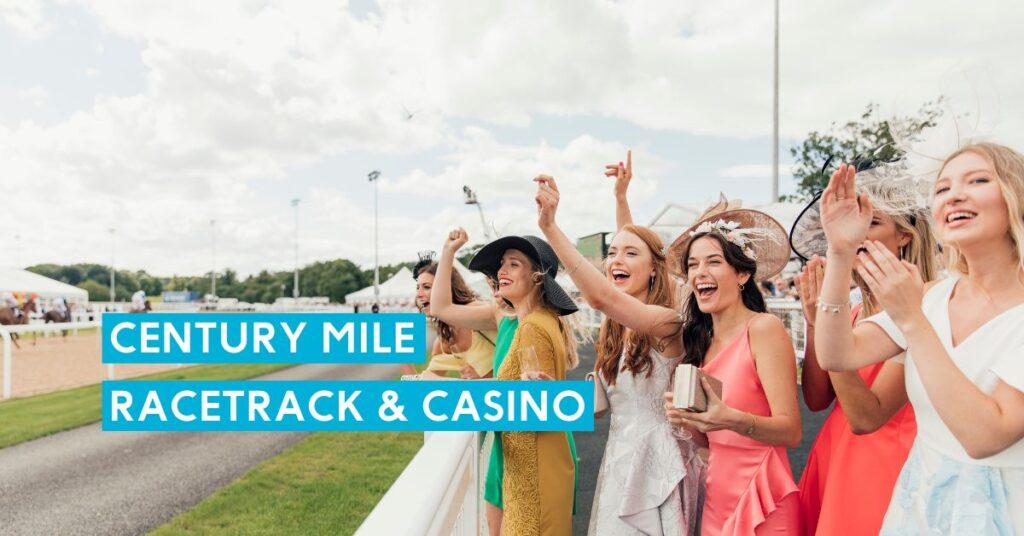 Century Mile Racetrack & Casino
Century Mile Racetrack & Casino is the premier destination for horse racing and gaming in Edmonton. With a state-of-the-art racetrack, casino, and entertainment facilities, Century Mile is the perfect place to enjoy an exciting day or night out. So whether you're a fan of horse racing, looking to try your luck at the casino, or just want to experience the thrilling atmosphere, you can't go wrong with a visit to Century Mile. While the casino is 18+, the track & paddock viewing areas are for all ages, so bring the whole family!
Pro tip: Century Mile can be up to 45 minutes from Downtown Edmonton, depending on traffic, so you'll want to make the most of your time in the area. Luckily for you it happens to be located just across Airport Road from the Premium Outlets at Edmonton International Airport, so go get your shop on while you're there!
Edmonton's tourism industry continues to experience tremendous growth, thanks to its vibrant culture and the large variety of things to see and do. The city is home to a number of unique small and large businesses that provide exciting and fun-filled experiences for tourists of all ages. With its diverse range of activities, attractions, and local businesses, Edmonton is sure to provide an unforgettable experience for tourists from all over the world. 
You'll want to keep coming back to check out all of the amazing businesses in the tourism industry that Edmonton has to offer, and when you do, remember to book your hotel through Edmonton's best hotels to receive up to $225 in rewards back for your stay at one of our 50+ member hotels.
Know someone who's looking for their next Alberta adventure? Share this post with them!