Edmonton's massive river valley park system has more trails than you think – 160 kilometres to be exact!  It's a four-season destination to enjoy hiking, biking, snowshoeing, cross country skiing or the simple pleasure of fresh air and bright sunshine.
There are trails for all ages and abilities with so many different landscapes to explore, but we've selected ones that are rated as "Easy" so that everyone can enjoy them.  This week, we'll share some of the trails we recommend on this part one of city walks and trails.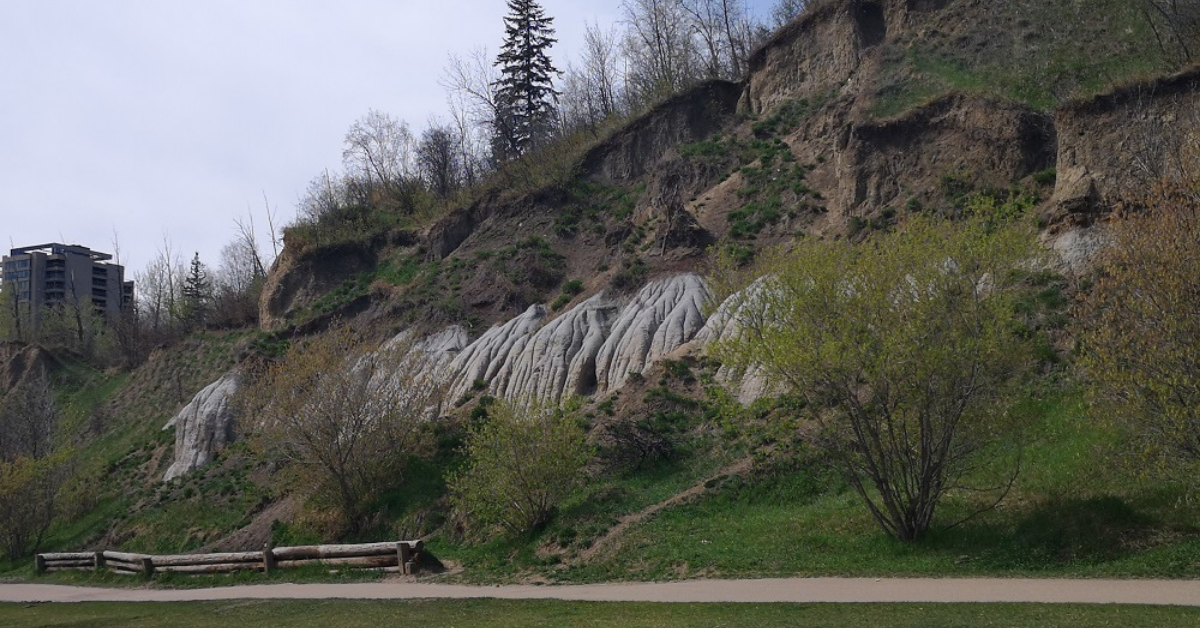 Did you know Edmonton has hoodoos?  Well, you do now!  You'll find them just at the start of this city trail that is 2 kilometres round trip.  Start out from Dawson Park which is just outside of downtown and known as Edmonton's Garden as it has many large trees and green open space.  The trail is also off-leash friendly for dogs, other than at picnic sites.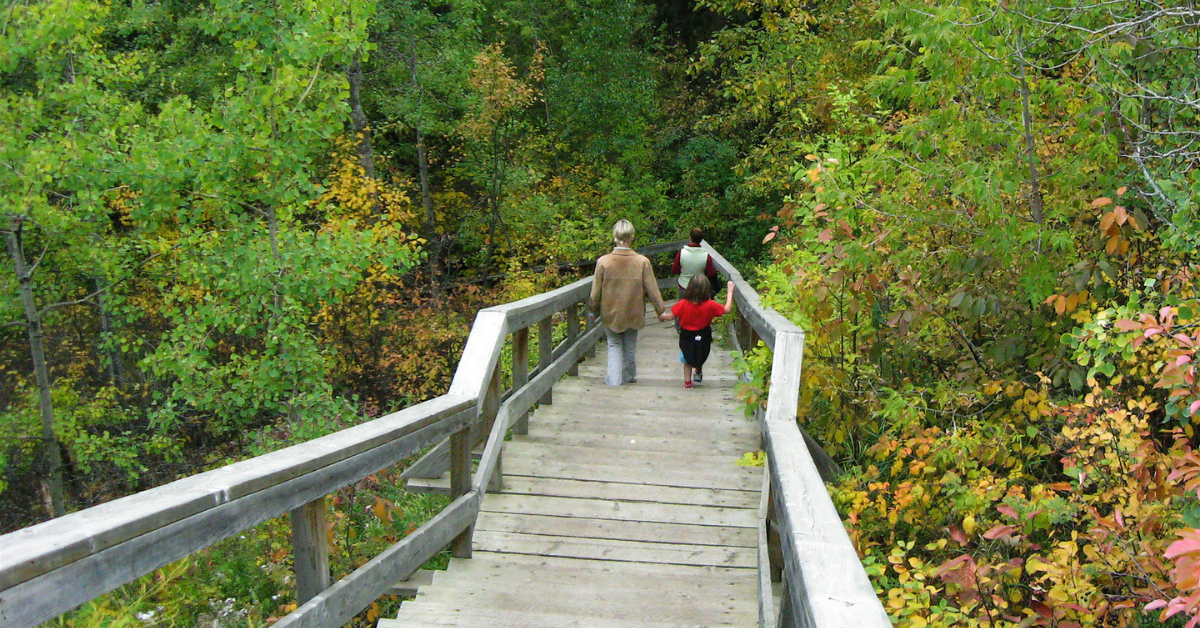 This path which starts at Hermitage Park is 5 kilometres long.  Hermitage Park has ponds, and access for boating, and the trail runs nearby the river at points.  The best part is the look out at the Fraser Ravine, where you can get a stunning view of the river.  Of course, there is a steep flight of stairs to get to the view, but it's worth the effort!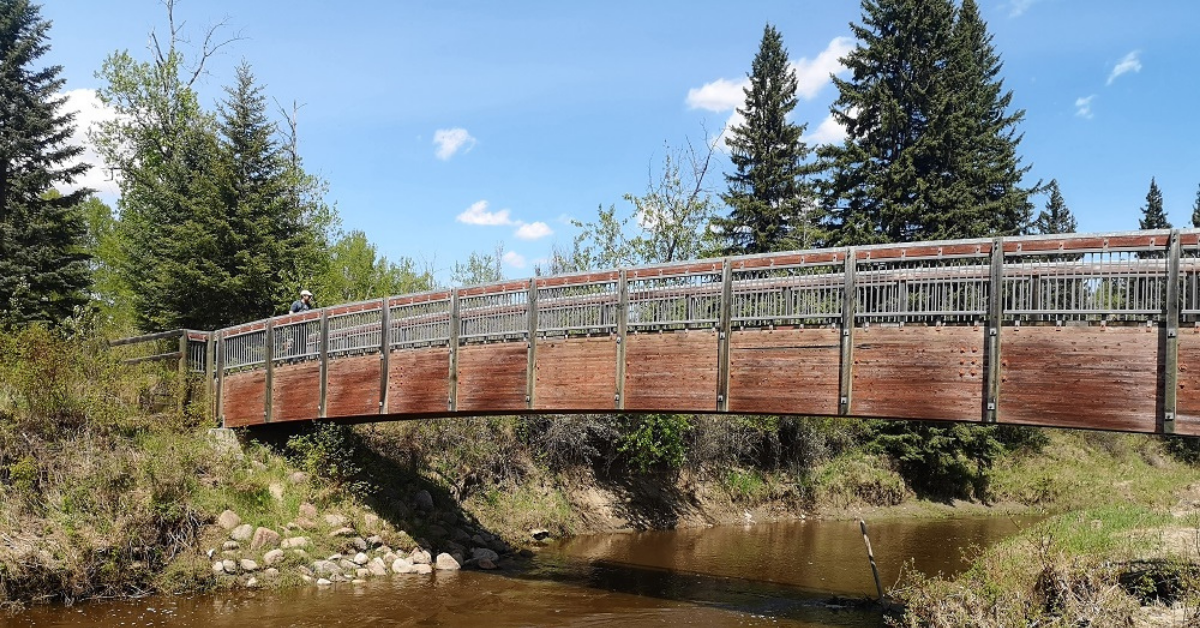 This trail is particularly picturesque as it winds through a nature preserve of old-growth forest and more than 150 species of birds and animals.  The round trip is 5 kilometres, the second longest of our list, through forest and creekside areas.  Because of the dense forest, there can tend to be lots of mosquitos during warmer months so be sure to wear long sleeves/pants and bring along the bug spray.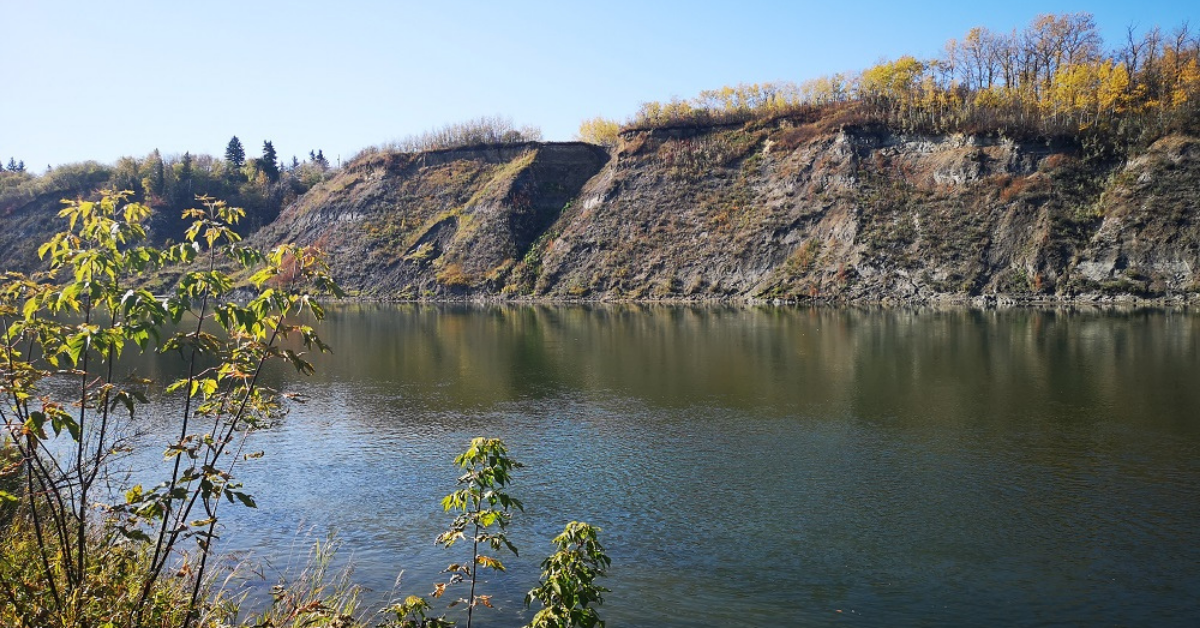 You can also find river valley trails outside the city, and we love this one in Fort Saskatchewan.  The West River's Edge Loop starts in the park of the same name, near the Red Coat Landing boat launch.  At 6 kilometres, the trail is long, but not challenging.  While the path follows alongside the river, views of it are obscured by forested areas most of the way, but there are quite a few viewing decks to get a better look.
We sourced our selections and information from the fantastic guides created by the River Valley Alliance.  In an upcoming part two, we'll profile even more great city trails, but if you want to read ahead, check out their website.
Do you love urban adventure?  We've got lots of curated content that you can check out to plan the perfect active getaway.  Check out the architecture in the Oliver neighbourhood, plan a picnic, or check out nearby Elk Island Park where the bison roam!  And because not all urban adventure is free, you might want to check out our 1, 2, 3 Pick Your Rewards Deal.  It includes your hotel booking at the best available rate PLUS high-value inclusions like gas cards, Ultimate Dining Cards and prepaid MasterCards.