Welcome to the Explore Edmonton Series, where we embark on a thrilling journey through the hidden gems of our beloved city. In this installment, we delve into the eerie world of Edmonton's haunted history. If you're intrigued by ghost stories and the supernatural, you're in for a spine-tingling adventure that will reveal the ghostly secrets lurking in the heart of our city.
Despite its modern façade, Edmonton has an intriguing dark side, with a history steeped in paranormal tales, urban legends, and ghostly encounters that have fascinated locals and visitors alike. So grab your EMF detector, and let's explore Edmonton's haunted past, unearthing ghost stories and haunted hotspots that will send shivers down your spine.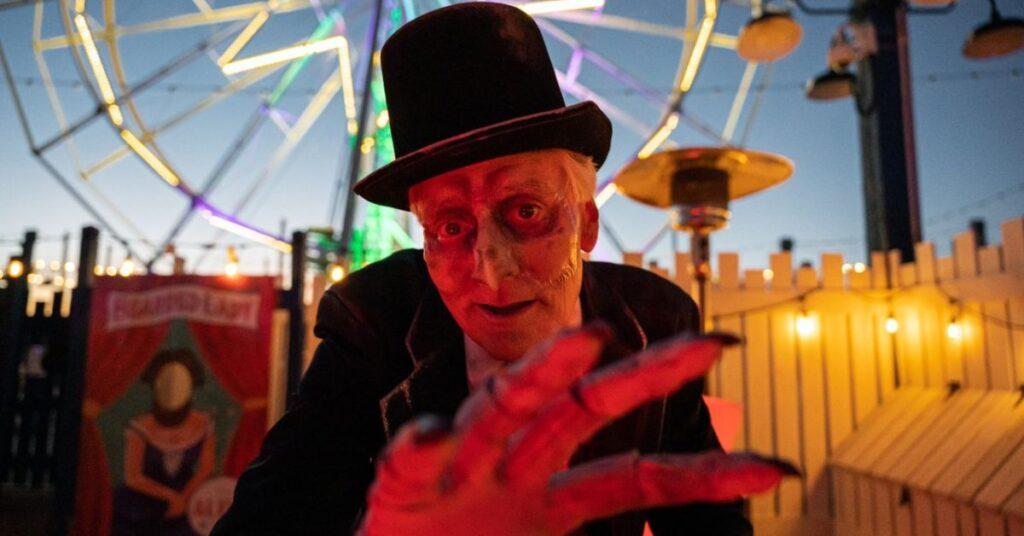 The Haunted History of Edmonton

Edmonton's reputation for ghostly encounters goes back generations. Its haunted history is intertwined with the city's development, historical events, and the rich tapestry of urban legends passed down through the years. This reputation has given rise to a vibrant subculture of ghost tourism, attracting those with a fascination for the supernatural.
The allure of Edmonton's haunted history lies in its capacity to transport you back in time, where the past and the paranormal intersect. The city's storied past has become a breeding ground for ghost stories and unexplained phenomena that continue to captivate our imagination.
What is it about the supernatural that captures our imagination? Perhaps it's the thrill of experiencing the unexplained, the shiver down our spines when encountering something beyond our understanding, or the desire to connect with those who've gone before us. Whatever the reason, ghost stories have held a timeless appeal, and Edmonton has its own collection of spine-tingling tales.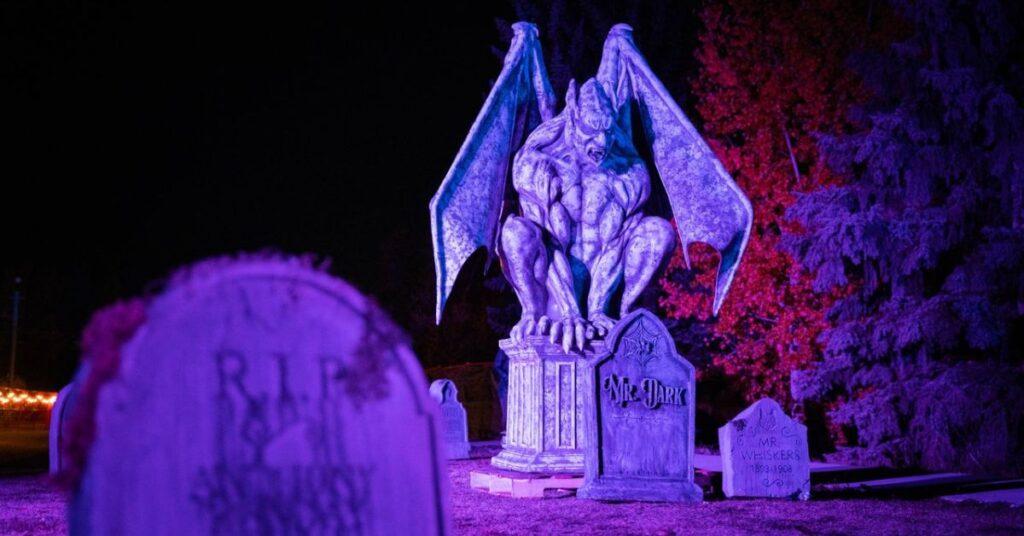 Ghost Stories and Legends
Edmonton boasts a treasure trove of ghost stories and legends, each more spine-tingling than the last. Let's delve into some of the most notorious spectral tales that have left an indelible mark on Edmonton's haunted reputation:
The Walterdale Theatre
The Walterdale Playhouse, a historical building in Edmonton, has become well-known for its tales of ghostly encounters and unexplained happenings. Originally built in 1910 as the Strathcona No. 1 Firehall, it served as a fire station until 1954. After that, it was used as a storage facility for unused furniture and equipment, which led to its deterioration over time. In 1974, the Walterdale Playhouse group took over the lease and restored the building, turning it into the theatre it is today.
Legend has it that the theatre is haunted by a friendly ghost known as Walt. It is believed that Walt was one of the original volunteer firefighters who met a tragic end within the walls of the building. Visitors have reported witnessing strange movements of objects, flickering lights, and a feeling of being watched. Some have even heard the sound of a ringing bell, caught the scent of horses, and sensed phantom hoofbeats on the floors. Many people still believe that Walt's restless spirit lingers within the theatre.
Gibbard Block
In a chilling and grim turn of history, a tragic event unfolded within the walls of this building, which most recently housed La Boheme Restaurant. Here, the wife of a former owner met a horrifying fate. The sombre tale tells of her murder by her husband in a fit of jealous rage in a room on the building's top floor. Her husband then dragged her lifeless body down to the basement, chopping her into pieces and tossing them into the building's furnace.
The echoes of this gruesome night seem to linger in the building's very fabric. Former employees have attested to unsettling experiences, including the spectral sounds of her body being dragged down the stairs, flickering lights casting eerie and uncertain shadows throughout the establishment, and bedsheets, innocently draped on beds, being mysteriously tugged off in the stillness of night by unseen hands.
Fairmont Hotel McDonald
The Fairmont Hotel Macdonald is renowned for its ghostly encounters and unexplained phenomena. One of the hotel's most famous ghostly tales revolves around the eighth floor, where guests have reported hearing the thunderous pounding of a horse's hooves echoing through the corridors. Legend has it that in 1914, during the hotel's construction, one of the workhorses tragically collapsed and died. Now, the ghostly horse is said to gallop perpetually through the eighth-floor halls and can occasionally be heard in the hotel's basement.
But the Fairmont Hotel McDonald isn't only home to ghostly equine. Guests staying in the executive suites have encountered the ghost of a man seated in a wing chair, puffing on a pipe. This 'boatman' is believed to be the spirit of a sailor from the North Saskatchewan River, a significant fur trade route where steamboats once passed by the hotel. Night managers have been known to receive mysterious phone calls from empty sixth-floor rooms, and, on one peculiar occasion, two staff members working late one night heard music playing in the staff-only Royal Service. When they entered the room, they were shocked to find the radio was not even switched on!
Haunted Hotspots
Edmonton's haunted hotspots are scattered throughout the city, each with its own unique history and ghostly encounters. Here are some of the spine-tingling locations where the supernatural is known to lurk:
The Princess Theatre
Originally built in 1914 and housing what was, at the time, the largest stage in Western Canada, The Princess Theatre underwent some changes in 1916 due to financial challenges, and rental apartments were built on the upper and lower floors of the building. It's on these floors that our ghostly tale takes place.
As the story goes, a young woman rented a room just days before her wedding. Unfortunately, her fiance left her, and, in unimaginable pain, the woman took her own life. Workers found her hanging in her room, dressed in her wedding gown. On countless occasions, theatre-goers and staff members have described the ethereal image of a young woman draped in a white gown gracefully ascending the grand staircase of the theatre. Her presence is often accompanied by an eerie, chilling sensation that lingers long after she disappears from view. This jilted lover has also been seen aimlessly wandering the hallways and hovering mysteriously in the projection booth.
McKay Avenue School
Amidst the notable alums that have passed through the doors of the McKay Avenue School, including bush pilot Wop May and actor Leslie Nielsen, one enduring presence remains veiled in the shadowy corridors of this 1904 brick schoolhouse. The historic institution, which once played host to Alberta's inaugural legislature sessions in 1906, has, over the years, earned a reputation not only for its academic heritage but also for its spectral inhabitant—an entity known as Peter.
Through the custodial staff's years of dedication, a small book came into existence—a chronicle of unexplained occurrences that seemed to defy rational explanation. Reports of chairs mysteriously rearranged, taps turned on by unseen hands, and the unsettling discovery of a locked archival basement room in disarray was carefully documented. The custodian's curiosity led to an independent investigation that delved into using an Ouija board. Through this unconventional means, a disquieting conclusion was reached—that the school's resident apparition was none other than a construction worker who had met a tragic end during the construction of a 1912 addition. Peter's spirit, it was believed, remained bound to the very structure where his life had come to an abrupt and unfortunate conclusion.
Edmonton General Hospital
Within the heart of Edmonton, along one of the city's bustling main thoroughfares, lies the enigmatic Edmonton General Hospital. This sprawling institution is composed of four main wings. Among these wings, the "B" Wing stands as a sombre reminder of the past, once serving as the surgical ward where countless patients underwent life-altering procedures. Although the "B" Wing has remained dormant for over two decades, it's said that the lingering scent of sickness still clings to its walls, a spectral echo of the suffering endured by those who sought solace within its chambers.
The hospital's eighth floor, once home to the pediatric wing, holds a spectral secret of its own. Echoes of children's laughter and mournful cries still resonate throughout the corridors, as if the young spirits who once sought care within those walls have never truly departed. However, their presence is not without consequence, as the elderly Alzheimer's patients who later occupied the wing were known to find their restless company disconcerting. Perhaps the most heartrending apparition to haunt the Edmonton General Hospital is that of a grieving mother who roams the sixth and eighth floors. Her anguished sobs pierce the silence as she tirelessly searches for her lost children.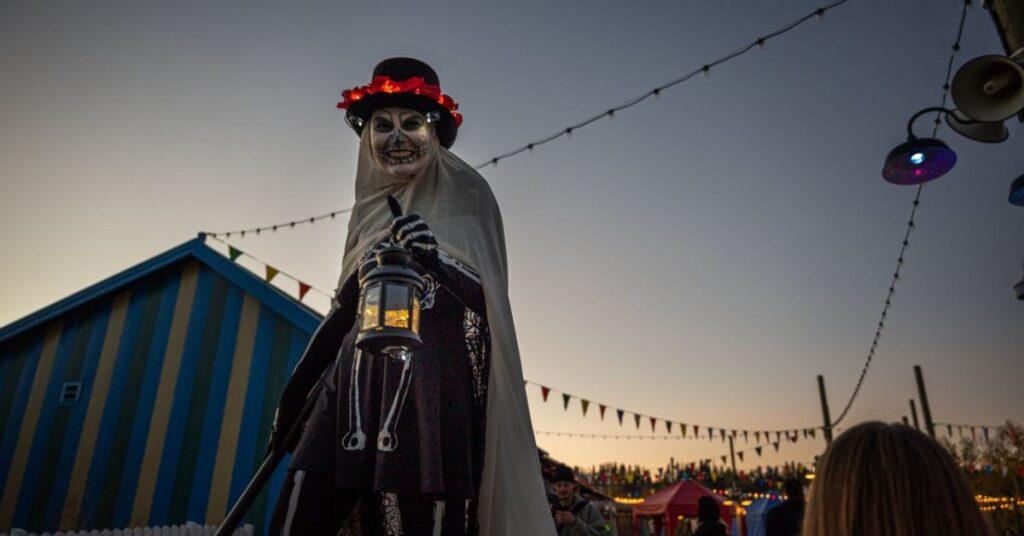 Ghost Tours and Haunted Experiences
Edmonton offers an array of ghost tours and haunted experiences that beckon the curious and the brave to explore its chilling past. These immersive journeys into the supernatural provide an opportunity to delve deep into the enigmatic stories that have left an indelible mark on the city.
U of A History and Haunted Walking Tour – More Info
For those seeking to uncover the secrets of the University of Alberta, the U of A History and Haunted Walking Tour is a must-visit experience. Led by knowledgeable guides, this tour delves into the university's rich history, its beginnings, and the influential figures who shaped it. However, it doesn't stop at academia—participants also have the chance to hear about the university's numerous ghosts, including the spectre of a young boy at The Rutherford House and the scientist who still roams the halls of the Power Plant. With a duration of 1 hour and 15 minutes, this tour promises to offer a captivating blend of history and spine-tingling tales.
Old Strathcona Ghost Tour – More Info
Take a ghostly walk through the historic streets of Old Strathcona, where each corner holds a chilling secret waiting to be revealed. As you stroll past landmarks like the Strathcona Hotel, the Princess Theatre, and Strathcona High School, you'll hear true stories of ghosts, hauntings, murders, and mysteries from local residents and business owners. Guided by a veteran storyteller with over 13 years of experience, this 1-hour tour is suitable for the entire family. It is the perfect outing to uncover the spectral history of Old Strathcona.
DARK at Fort Edmonton Park – More Info
For those who crave an adrenaline rush, DARK at Fort Edmonton Park is a spine-chilling adventure that explores the shadows lurking in Edmonton's River Valley. Returning for its sixth year, DARK offers three terrifying experiences that will have you questioning reality. Beyond the scares, DARK offers a delightful array of food, spooky cocktails, and a live DJ spinning eerie beats, making it Edmonton's premier haunted festival—a hauntingly good time you won't want to miss!
Pumpkins After Dark – More Info
If you prefer your thrills with a touch of enchantment, Pumpkins After Dark is a bewitching spectacle featuring over 6,000 hand-carved pumpkins. Wander through a mesmerizing pathway illuminated by the soft glow of pumpkin displays accompanied by music and special effects. From classic Halloween characters to dinosaurs, dragons, and pop culture icons, this family-friendly event promises something for everyone in a magical pumpkin wonderland.
Deadmonton Haunted House – More Info
No Halloween season is complete without a visit to a haunted house, and Deadmonton Haunted House delivers an unforgettable experience. This year, prepare to have your sense of reality twisted as you descend into the depths of madness. Deadmonton is offering three exceptional haunted attractions this year: Return of the Williams Farm, The Convent: The Damned Sisterhood – a Descent into Madness, and Print Show. Journey through these eerie realms and prepare to confront your deepest fears in a hauntingly immersive adventure.
Edmonton's haunted history is a captivating aspect of its past, drawing in both locals and visitors alike. Whether you're intrigued by ghost stories, enjoy exploring haunted locations, or simply embrace the supernatural allure, Edmonton is the place to be this Halloween season. Join us on our next installment of the Explore Edmonton Series as we continue to uncover the hidden gems of this remarkable city.
To make the most of your spooky visit to Edmonton this Halloween, don't forget to check out Edmonton's Best Hotels. Take advantage of our 1, 2, 3 Reward Deal and enjoy a comfortable stay while you explore the city's haunted past.
Know someone who gets scared easily? Share this post with them!