West Edmonton Mall – An Overview
West Edmonton Mall is a destination unlike any other. It's not just a shopping centre, it's an adventure! With its many attractions, shops, restaurants, and entertainment, it's an experience like nothing you've ever seen before. 
Did you know that the WEM is the only mall in North America that features an indoor roller coaster, an indoor lake, a mini golf course, and a water park? It's true! It's also home to an NHL-sized ice rink, a bowling alley, and a 9-screen movie theatre. West Edmonton Mall is truly a one-stop shop for everything you need for a fun-filled day with family, friends, a date, or just yourself.
Pro-tip: You'll probably need at least two days to see and do everything that West Edmonton Mall has to offer–if you plan to do everything, of course.
WEM Cool Fact: West Edmonton Mall is bigger than the smallest country in the world. WEM rounds out at 5.3 million square feet, while Vatican City is only 4.7 million square feet.
Activities and Attractions
West Edmonton Mall offers far more than just shopping, with a plethora of exciting attractions available to keep you occupied for days! If you're looking to take advantage of multiple activities, consider investing in a Multi-Play Pass. These passes provide access to almost all the attractions, such as Galaxyland, World Waterpark, Ice Palace, mini-golf, and Ed's Bowling, and start at $119 CAD for a two-day pass. Want more bang for your buck when you're visiting West Ed? Booking a two or three-night stay through Edmonton's Best Hotels gives you the opportunity to choose your rewards! Opt for the $150 or $225 prepaid Mastercard reward when you're choosing your deal, and it'll pay for your Multi-Play Pass with some spare change left over to treat your family or friends to a bite in the more than 100 restaurants currently open at WEM! 
But let's take a deeper dive into some of WEM's most popular attractions!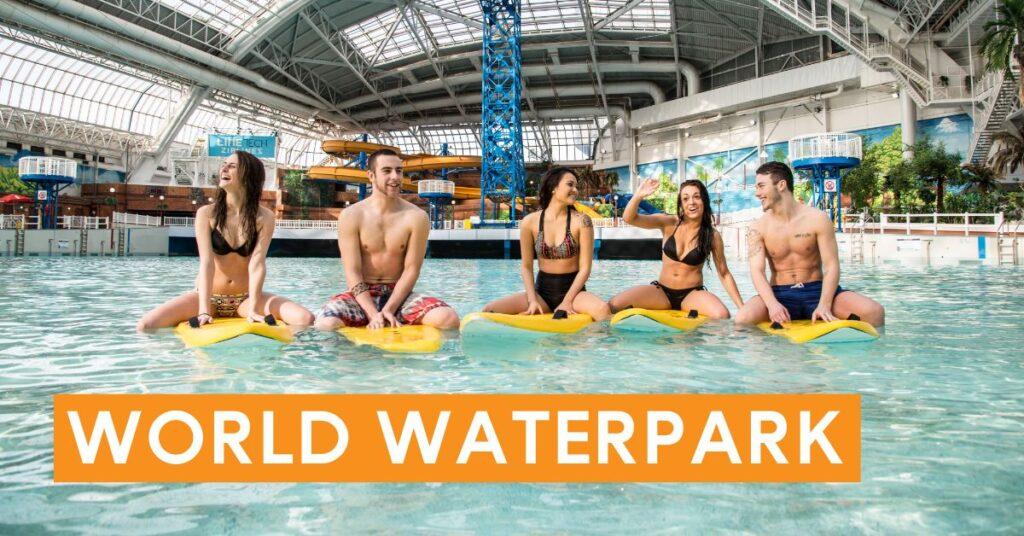 World Water Park: Boasting the world's largest indoor wave pool, the World Water Park in West Edmonton Mall is not to be missed! This incredible attraction has 20 different waterslides, a splash park and climbing structure for the littlest members of your family, and the Sky Screamer Extreme, a massive vertical drop slide that looms 85 feet above the park. Riders are placed into pods, and a trap door opens, sending them shooting down the slide at speeds that can reach 60 km/h!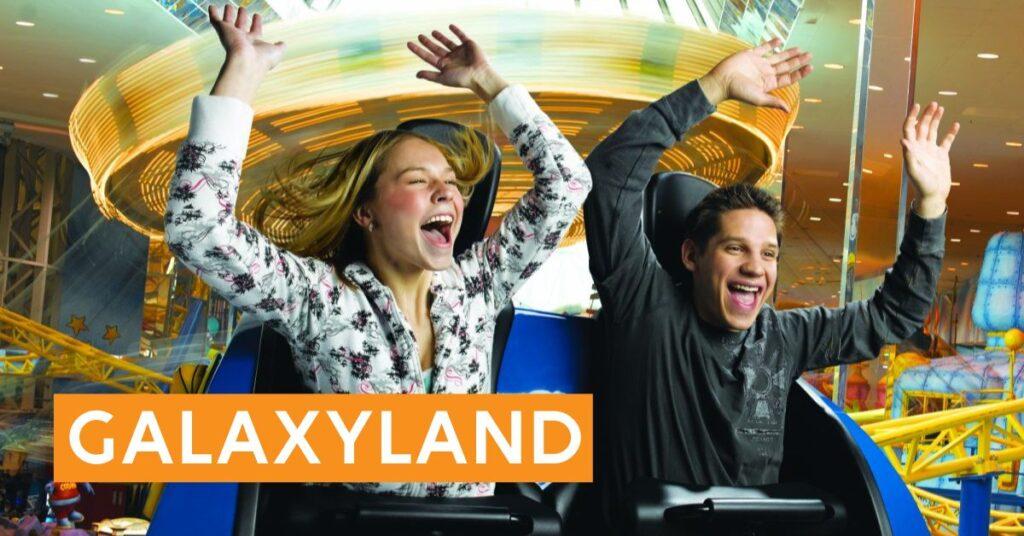 Galaxyland: Have you ever gotten all ready to head out to your favourite amusement park only to be stopped by bad weather? That doesn't happen at Galaxyland! You can even visit this huge indoor amusement park during Edmonton's signature freezing winters! Galaxyland is North America's largest indoor theme park. As a result, it is one of the most popular things to do in West Edmonton Mall. It features over 27 rides, including four amazing roller coasters, a funhouse, a carousel, and the Space Shot, which launches passengers 120 feet into the air on the country's tallest indoor tower attraction. And, as with any great amusement park, there are carnival games and food galore!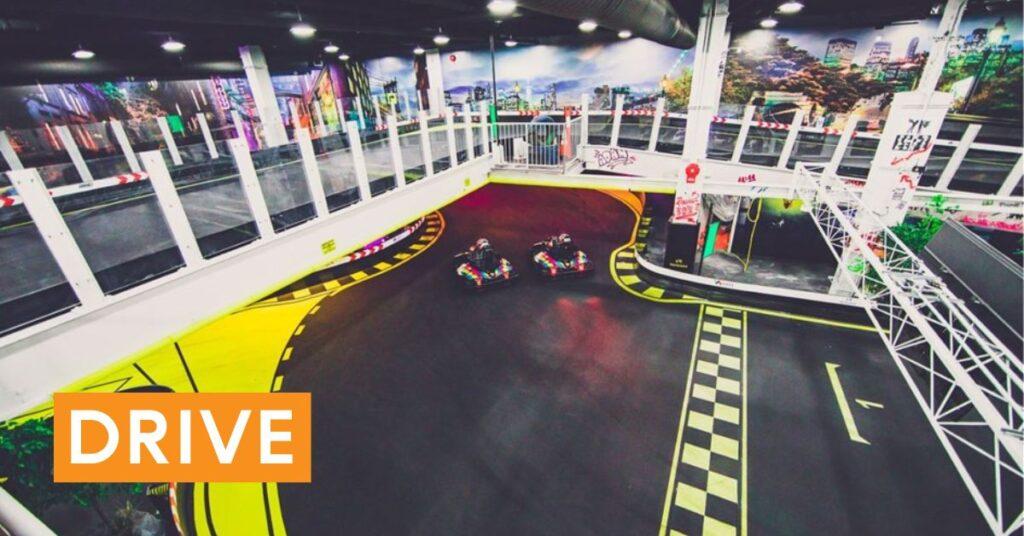 DRIVE: WEM's newest attraction is the best bet for those of you who want to channel your inner Fast & Furious. Boot around this three-level indoor race track and take in the New York streetscape as you go. Fair warning, though, these are NOT the go-karts you grew up with! Each race lasts around seven minutes and consists of 14 laps around the expansive track. The age minimum for racers is 14 years old.  Races are often done on a walk-in basis, but you can purchase tickets up to 24 hours in advance. Just ensure that you don't miss your race time—there are no refunds at DRIVE.
These are three of the most popular attractions at WEM, but believe me, they are far from the only ones. Grab a club and hit up Dr. WEM's Adventure Golf (or Dragon's Tale if you're more of a glow-in-the-dark mini golf fan), join the party at Ed's bowling, let your inner child come alive at the Rec Room Arcade, or take in a sea lion show at Marine Life.
Pro-Tip: You're never too old to zoom around the mall on giant, motorized stuffed animals.
WEM Cool Fact: Galaxyland is home to four rollercoasters (there's one for every age & every level of thrill seeker), including the Mindbender, the tallest indoor rollercoaster in the world and the only one that features three complete loops.
Hotels Near West Edmonton Mall
West Edmonton Mall is conveniently located in the heart of Edmonton, just a short drive from the city's main airport. There are plenty of hotels and accommodations near the mall, ranging from budget-friendly to luxury. No matter what kind of hotel you're looking for, you'll be able to find it close to the mall. 
So what's the best hotel to stay in then? Book your stay through Edmonton's Best Hotels! You can choose from 15+ of our West Edmonton member hotels (we have something for every budget!) and even take advantage of our 1, 2, 3 Pick Your Rewards Deal, where you'll get up to $225 in rewards back for staying one, two, or three nights. That's more money in your pocket to spend on your trip, after all!
WEM Cool Fact: Canada's first Victoria's Secret store is in West Edmonton Mall.
An Insider's Perspective
As mentioned earlier, Edmontonians are all too familiar with non-Albertans asking us about West Edmonton Mall. So, as an insider, do I think West Ed is worth all the hype it gets? The short answer is yes, absolutely! 
There are, of course, so many cool things to see and do in this amazing city of ours, but if you've got an extra day (or two, or three, depending on what you want to see and do at WEM) while you're here, then definitely check it out. I could write an entire second blog just about the food and shopping experiences at West Ed – it's not just about attractions!
Planning a trip to Edmonton soon and looking for a hotel near West Edmonton Mall to get the most out of your stay? Book through Edmonton's Best Hotels, and don't forget to subscribe to our Travel Insider Newsletter to get exclusive insider-only bonuses straight to your inbox, including early, private access to limited availability deals, additional offers & contests every month that aren't open to the public, and opportunities to have your voice heard – tell us what you want to see!
Know someone who might be thinking about a trip to one of Canada's biggest malls? Share this post with them!