While the rest of the country spends their winter months hiding from the deep freeze and hibernating under their blankets, we Edmontonians choose to do things a little differently. We don't hide from the cold in this beautiful city, we embrace it!
One of our favourite ways to embrace this winter season here in Edmonton is by heading out to Winter Festivals, and boy do we have a lot of them! Every season is festival season when you're in Edmonton, so keep reading for our list of not-to-be-missed Winter Festivals hitting the city this year!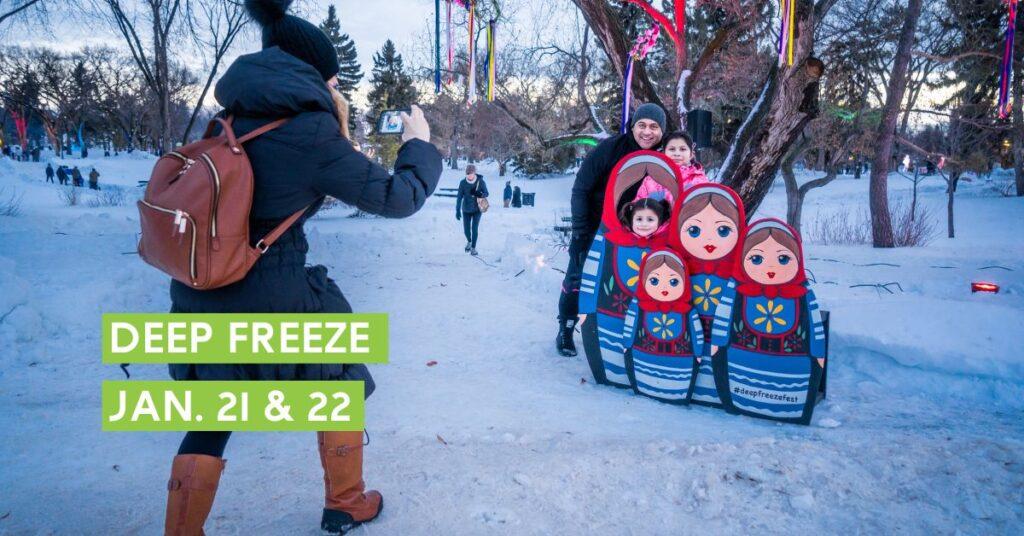 January is such a fun month in Festival City, so if you're planning a trip to Edmonton, we suggest considering a visit this time of year, not only for the festivals, but simply for the beauty of the city under a fresh layer of sparkling snow. And there is no better way to embrace the cold that winter brings to Edmonton than by hitting up Deep Freeze: A Byzantine Winter Festival between January 21st and 22nd. Celebrate everything that Ukrainian, French Canadian, and Indigenous cultures have given our city through delicious food, incredible art installations, singing, dancing, ice sculptures, and even go racing down a hill in an actual deep freezer!
Head to the Alberta Avenue District to take a trip into the Deep Freeze enchanted forest where you'll come face to face with a mythical creature, woodland animals, colourful flora, and big, bright mushrooms out of a fairytale–all hand-crafted by renowned lantern, balloon, and ice sculpture artists from around the world. Travel around this fairytale paradise to discover artistic creations, musical celebrations, traditional dishes to delight  your palette, and a charming homestead village.
If that doesn't entice you enough, you can strap on a pair of snowshoes and trek through Pipon Village, where you'll get to sit around a warm fire, sipping tea and eating bannock while listening to indigenous storytellers regale you with traditional tales. Or head over to the hearth stage to watch a Ukrainian dance troupe perform.
There is so much to see and do at Deep Freeze that you're going to need both days just to make sure you get to all the fun! But this delightfully wintery festival isn't the only thing to discover in the Alberta Avenue District! Grab a taste of the exotic at the Paraiso Tropical Latin Market, get nostalgic and retro at NexWave Video Games, take a twirl around the dance floor at drop-in dance classes at Bedouin Beats, and then fill your bellies with cultural cuisines from around the world at the dozens of delectable restaurants lining the district.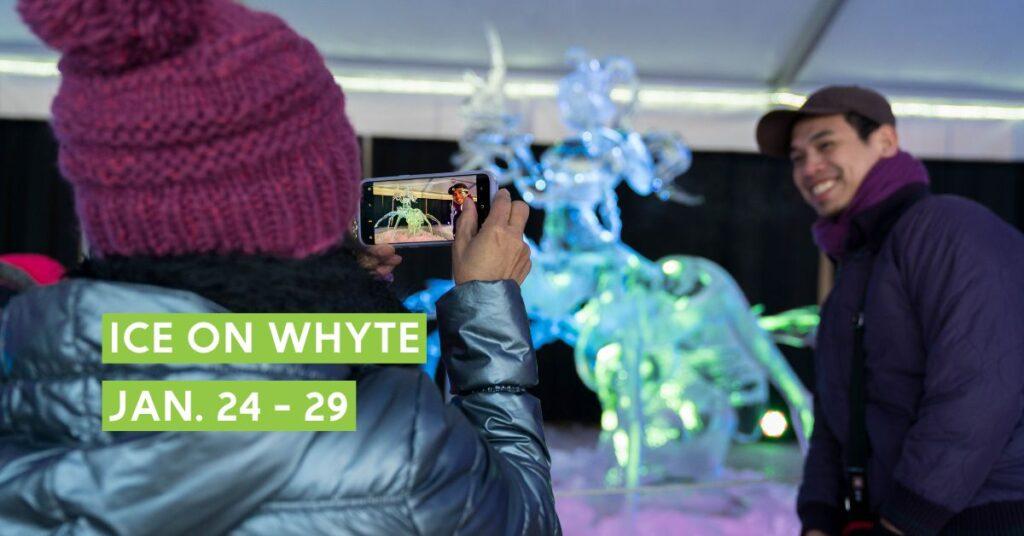 The magic of the season continues with the return of Ice on Whyte, a festival celebrating the beauty of ice sculptures in Old Strathcona, from January 24th to the 29th, 2023.
When it comes to Edmonton, the real fun starts when the temperature drops below freezing because that's when the incredible, world-renowned ice sculpture artists head to Old Strathcona to showcase their magnificent sculptures, give demonstrations, and even teach families of all ages how to take a stab at ice carving themselves at the Chippers Ice Carving booth!
Ice on Whyte is one of only three ice carving competitions in all of Canada, where ice sculpture artists from across the country gather to showcase their talents and compete against one another to create the most intricate ice sculpture of the year.
To view the gallery of past sculptures and take a peek at what's in store for this year, visit the Ice on Whyte website.
Got an extra day or two to spend in Edmonton? Then you're on the right track with Whyte Avenue. There is so much to see, do, and experience on Whyte, that you might not make it anywhere else in the city! Thrifty shoppers will love the array of thrift and antique shops–the perfect places to pick up souvenirs for family and friends back home. If you're looking for a bit of Edmonton's signature night life, the area around Whyte Ave has you covered there, too. Hit the dance floor at The Buckingham and then satisfy the appetite you've worked up with their vegan street food offerings, or turn up the heat at El Cortez Cantina for some authentic Mexican tacos & tequila!
Seriously, spend some time around Whyte Ave. We'd need to write a whole blog just to scratch the surface of everything the area has to offer.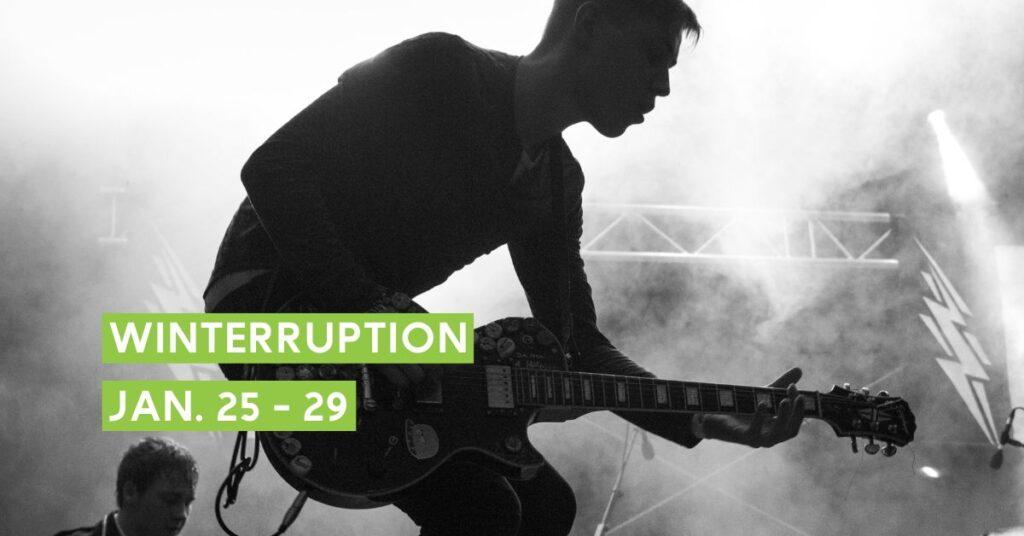 Looking for more musical arts or comedy focused fun? Winterruption YEG was born out of the desire to celebrate Edmonton in all of its seasonal glory, not just in the spring and summer months. From January 25th to the 29th, experience five days of live music, drag shows, comedy shows, and outdoor events across multiple venues around the city. Add in craft beer, and you've got a party.
Winterruption was started in collaboration with the Saskatoon and Regina Winterruption festivals, and the Big Winter Classic in Calgary with the goal of promoting the arts in winter wonderland. Each concert and show promotes safety and inclusivity, and there will be events for all ages, as well as some for 18+. Gender, sexuality, age, genre, and culture are all represented in this diverse festival's programming.
To get the full lineup of artists, events, and venues – and to buy your tickets – check out the Winterruption website. The majority of the venues can be found in Edmonton's City Centre, which is the perfect place for your winter vacation. When you're not checking out the Winterruption shows, take a stroll through the downtown core to find an explosion of arts and culture that everyone in your family can enjoy. Check out the Art Gallery of Alberta to see thousands of works of art from world-renowned and Canadian artists alike, visit the Neon Sign museum to add a little light to your life, or get adventurous and take a tour of the city through one of our crazy, fun-filled scavenger hunts.
Bundle up for a walk down the 4th Street Promenade and fill your senses with the sights, sounds, and smells to be found there. Hit up Jasper Ave for a night you won't soon forget, try your hand at the slots or table games at the Grand Villa Casino in Rogers Place, or even take a leisurely ice skate at the Legislature Grounds.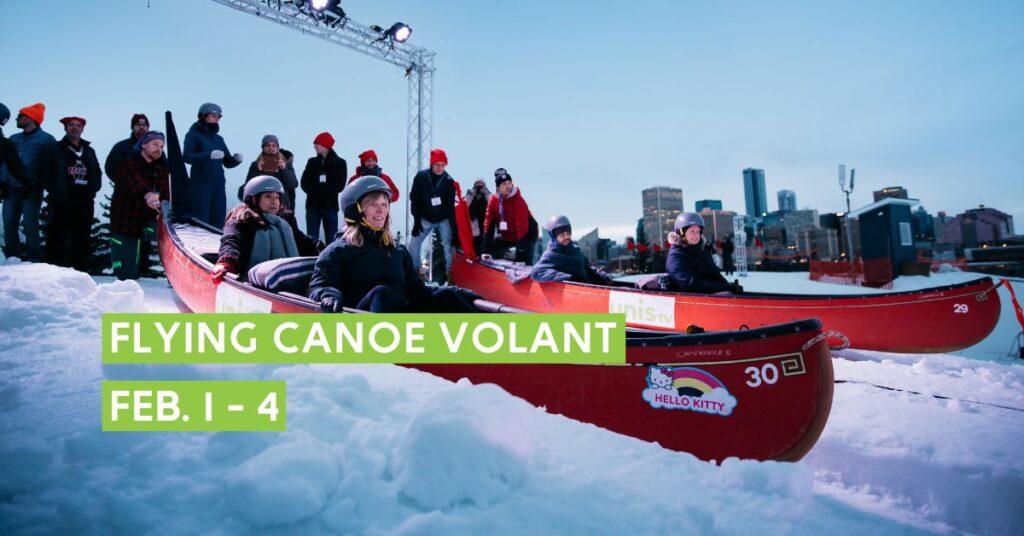 Back when French Canadians were beginning to settle in New France, many men would have to travel for work cutting wood. They would be away from their families for extended periods of time, and, especially on special occasions, would take to missing their loved ones fiercely.
It is with such a party of woodcutters that begins the tale of the Flying Canoe. One New Year's Eve, a group of woodcutters were stuck in the snow in the forests of Gatineau, unable to travel home to see their sweethearts. They lamented their luck for many hours until one of them came up with an idea. He called upon the devil and made a pact with him that if he would make their wooden canoe fly through the air to return them to their families for the night, they wouldn't go to Mass for a year. The devil agreed but added if they touched a church steeple or uttered the name of God, their canoe would crash.
You can look up the rest of the story if you want to hear how it ends, however, it was this story that inspired the Flying Canoe Volant festival. At this French Canada, First Nation, and Metis festival, running from February 1st to the 4th, 2023, you'll have the chance to listen to stories and traditions as you adventure through Edmonton's French Quarter to the winding, glowing trails of Mill Creek Ravine in your own flying canoe.
While you're in town visiting for Flying Canoe Volant, up your joie de vivre by taking a trip through Edmonton's French Quarter. French Canadians traveling from Quebec, New Brunswick, or Ontario will feel right at home in the Francophone District. Visit the FrancoMarket for homemade goods from local farmers, artisans, brewers, crafters, and wineries, and when you're done, take a rest at Café Bicyclette for a coffee, pastry, or some classic Quebecois cuisine.
There's a reason Edmonton is called Festival City. We know how to do festivals right, all year long. If you're in the mood to catch some of these incredible festivals this winter, bundle up, mark your calendars, and book your hotels before they're sold out! When you book through
Edmonton's Best Hotels
, you can even take advantage of our 1, 2, 3 Deal where you'll get rewards back for staying one, two, or three nights!
Know someone who might want to join in the festival fun? Share this post with them!
And don't forget to sign up to become an EBH Travel Insider – check out all the perks here.