Are you planning on taking the family on a Spring Break trip to Edmonton and don't want to miss out on all the awesome things our city has to offer (but also don't want to break the bank)? We've got your back! Keep reading to find a simple four-day itinerary that's budget-savvy with a splurge or two (our 1,2,3 Rewards Deal can help with that!), but also maximizes the fun for your whole family!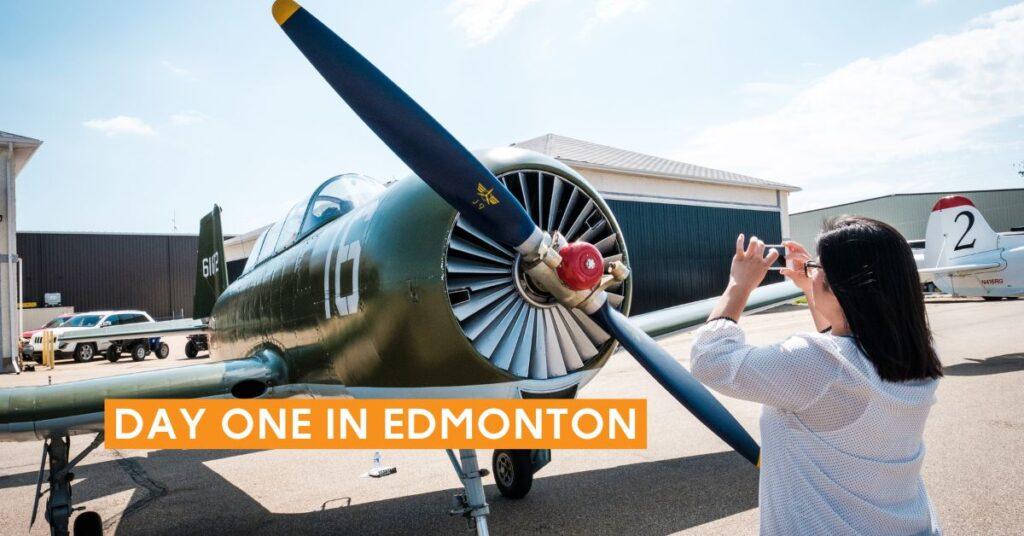 Spring Break in Edmonton: Day One
Before leaving your hotel for the day, make sure you fill up on a hearty breakfast to keep your energy up for all of the fun you're going to have exploring the city. 
Pro Tip: If you're looking for a hotel that offers free breakfasts, check the "complimentary breakfast" box when browsing our Member Hotels on the Edmonton's Best Hotels website to see all of our Member Hotels that offer their guests complimentary breakfasts. Whether you want a simple continental breakfast or a full-service hot breakfast buffet, our Member Hotels have it all.
Once you've fuelled up on your breakfast of choice, start your vacation off right with a trip to the Alberta Aviation Museum, where the learning is so fun, the kids won't even know it's happening! It features a variety of aircraft, interactive exhibits, and hands-on activities that make learning about aviation fun and engaging. Kids will love seeing the planes (including a restored WWII Lancaster Bomber) and learning about the history of flight. It's a great way to spend an educational morning with the family.
From the museum, take a pit stop at Boston Pizza or Moxies near Kingsway Mall for a quick bite at a family-friendly restaurant. If you want to walk off your meal in a beautiful setting, you're just blocks away from the Yellowhead Highway, which leads you straight to Elk Island National Park. Before you know it, you'll be taking in the breathtaking wilderness while keeping your eyes peeled for the bison, elk, moose, white-tailed deer, and other animals that call Elk Island home.
Finish your first day off with a dip in your hotel pool (many of our Member Hotels have indoor pools for guests to enjoy!), and order in some room service or check out the hotel restaurant for a delicious family supper.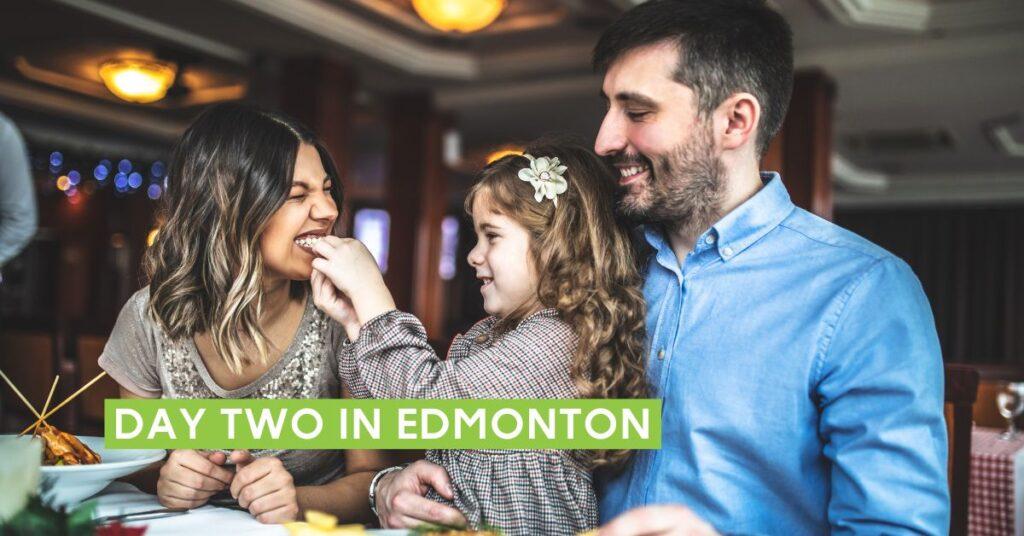 Spring Break in Edmonton: Day Two
When you've only got four days in Edmonton, one of the city's tourist must-sees is West Edmonton Mall. It's a great way to spend a fun day with the family, with plenty of activities and entertainment to keep everyone entertained. Kids will love the indoor amusement park, Galaxyland, World Waterpark, and Rec Room arcade, while parents can enjoy the shopping, dining, and other amenities. It's a great way to spend a day during a family vacation in Edmonton.
The World Waterpark is the largest indoor water park in North America, with 17 water slides and multiple pools, while Galaxyland features over 25 rides, including the Mindbender rollercoaster, the largest indoor triple-loop rollercoaster in the world. There's also the Ice Palace, an indoor NHL-sized skating rink that offers a fun winter experience all year round. Additionally, the mall features an indoor mini-golf course, a sea lion show, and a marine life attraction. Check out our blog on West Edmonton Mall to learn more about the attractions WEM has to offer. 
There is so much to see and do at West Edmonton Mall that you'll likely spend the entire day there (and still not see and do it all!). So grab a meal over on Bourbon Street, where you've got your choice of 10+ incredible restaurants, including Five & Dive, Japanese Village, and Hudson's. Or take in a comedy show while you dine at the Comic Strip. And make sure you save room for dessert at Marble Slab Creamery before heading back to your hotel to wind down and prepare for your next day of adventure!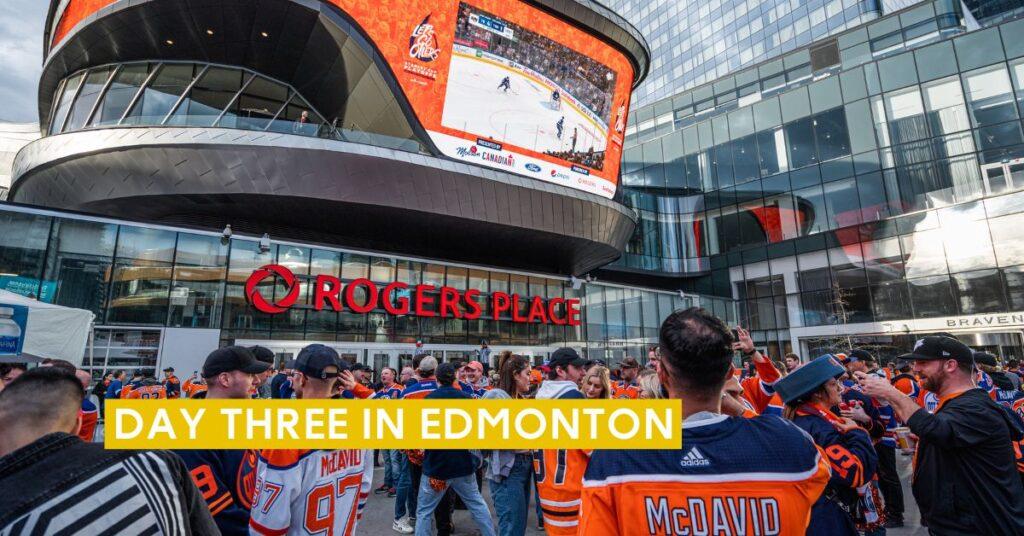 Spring Break in Edmonton: Day Three
Let's start day three off with a relaxing morning in the hotel with the family. Check out the pool if your chosen hotel has one, order in some room service breakfast, and veg it out before you take on the town.
Don't get too comfy though because we've got a little adventure planned for the afternoon of your third day! Edmonton is home to so many family-friendly escape rooms. Your little ones will love running through the rooms, finding clues, and opening mysterious locks.
For the more technologically-inclined families, head over to Game OVR on St. Albert Trail to try your hand at a virtual reality escape room! Uncover the secrets of the Queen of Hearts and help Alice break her spell in Alice in Wonderland, solve challenging puzzles to find your way home in Jungle Quest, or save the future from the machine takeover in Huxley. With so many kid-friendly escape rooms to choose from, your kids will want to go back again and again.
When you've successfully made your escape, head back to your hotel for a shower and get ready to hit the town and take in an Edmonton Oilers game! Depending on when you decide to take your Spring Break vacation, the Oilers will be playing at home on Saturday, March 25th, against the Vegas Golden Knights and on Thursday, March 30th, against the LA Kings. Travelling to Edmonton for Spring Break during a different week? Check out the Oilers' full schedule to find the right game for your family vacation. Now, an Oilers game can be a bit of a splurge, so keep reading to the bottom to find out how we can help with that when you book our 1,2,3 Rewards Deal and get up to $225 back in FREE rewards to help recoup some of your costs!
Spring Break in Edmonton: Day Four
A vacation to Edmonton is not complete without a day spent walking the incredible 4th Street Promenade. 
The 4th Street Promenade, located on 104th Street between Jasper Avenue downtown and the ICE District, is a must-visit destination for shoppers in Edmonton. This area boasts a diverse collection of local shops, iconic restaurants, and historic buildings. Visitors can find a mix of upscale fashion and furniture stores alongside small artisanal craft and specialty shops. Many of the shops in this area are housed in historical buildings, adding to the charm and character of the neighbourhood. The 4th Street Promenade is the perfect place to find unique and authentic items while experiencing the rich history of Edmonton's old warehouse district.
And while strolling the Promenade, be sure to take in the Neon Sign Museum, located conveniently on the outer walls of the Mercer and TELUS buildings. The museum is a must-visit spot for tourists in Edmonton. Being the first open-air museum of its kind in Canada, it features 20 functioning neon signs that represent the city's past, from theatres, telegram agencies, restaurants, furniture showrooms, and more. This collection of neon signs offers a unique perspective of Edmonton's history and adds a hint of nostalgia to the 4th Street Promenade, making it an ideal place for visitors to take a stroll and admire the vintage signs that light up the area.
Finish your final day off with a dining experience like no other at any of the hundreds of restaurants that line the city's streets. Unsure of which one you should check out? We've got a couple of ideas for you to choose from in our blog, Mouthwatering Meals: Some of Edmonton's Top Restaurants.
After you've eaten your fill, it's off to spend your final night at one of our luxurious Member Hotels, where you'll no doubt dream of all the things you'll want to see and do on your next visit to Edmonton.
Edmonton is a great destination for families looking to spend their Spring Break. With a wide variety of activities and attractions to choose from, there's something for everyone. From touring the 4th Street Promenade, escaping from the Queen of Hearts at Game OVR, exploring the Alberta Aviation Museum, and visiting West Edmonton Mall, there's no shortage of things to do.
To make the most of your Spring Break, make sure you book your hotel through Edmonton's Best Hotels, so you can take advantage of our 1, 2, 3 Rewards Deal, where you can get up to $225 in free rewards just for staying in one of our Member Hotels. So, book your hotel today and experience all that Edmonton has to offer during your Spring Break!
Know someone who's planning a trip and looking for things to do in Edmonton? Share this post with them!