Like many Canadian cities, Edmonton has residents from countries around the globe who are sharing their culture, customs and delicious food.  Since so much of travelling is about trying new foods, we like to profile the wonderful dining options you can try out on your visit.  This week, World of Flavours is back with Ethiopian cuisine!  
If you are unfamiliar with the popular dishes that make up Ethiopian cuisine, it's understandable.  As Amsale and Paul Sumamo of Langano Skies Restaurant explain on their website: "Ethiopian food has essentially remained uninfluenced by other countries and therefore retains its unique taste, style and tradition. Ethiopians love to share what they have with friends and family. Rich or poor, everyone offers food and drink to every one of their visitors."
Which dishes are the foundation for the cuisine?  
Injera, a sourdough flat bread, made with a grain called teff, which often acts as an actual base for rich stews laid out on a platter called a 'gebeta'.
Tibs, a beef dish with onions, garlic, hot pepper and rosemary.
Shiro de Kibbe, a kind of chickpea stew made with kibbe, which is spiced clarified butter.
Kitfo, another beef dish but one served raw, with meat mixed with kibbe.
Doro Wat, a kind of chicken stew spiced with the traditional blend of spices called berbere that includes garlic, ginger, cardamom and fenugreek but can have as many as 25 different ingredients.
Gomen, stewed greens (collard greens or kale) with onions, cumin, coriander and ginger often served as a side dish.
Now that we have an overview, let's take a look at some of the many Ethiopian eateries thriving in Edmonton!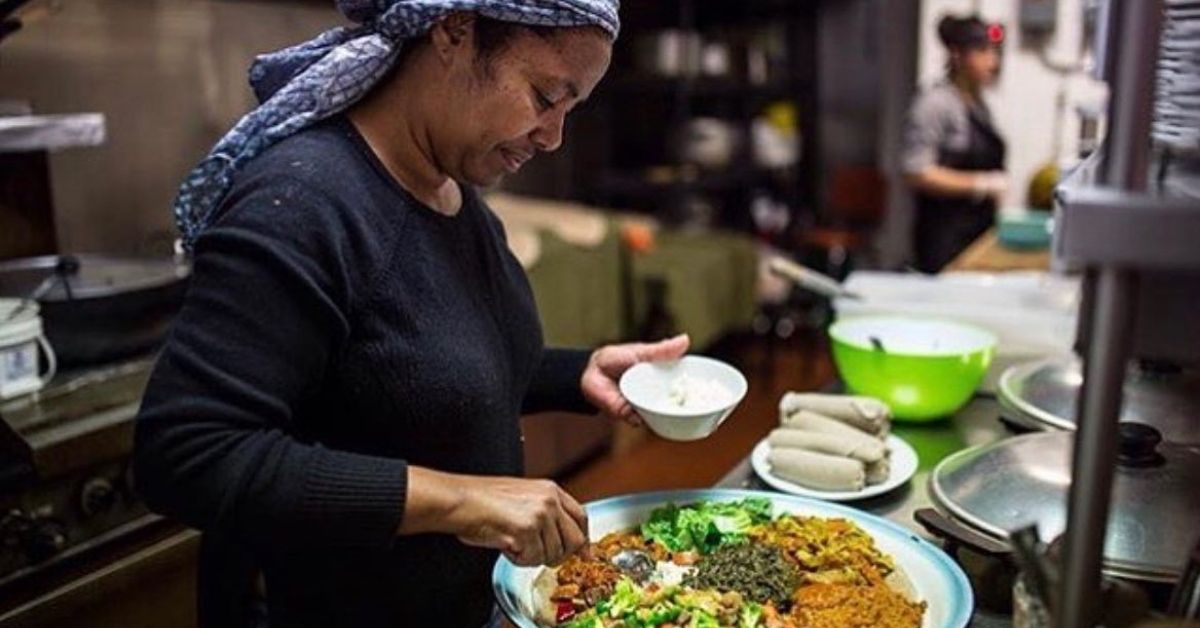 Named for Lake Langano in the Great Rift Valley, Langano Skies has been voted Edmonton's best African restaurant every year since 2006.  For nearly 18 years, the restaurant has been welcoming guests to try authentic Ethiopian hospitality, culture and cuisine on Whyte Avenue.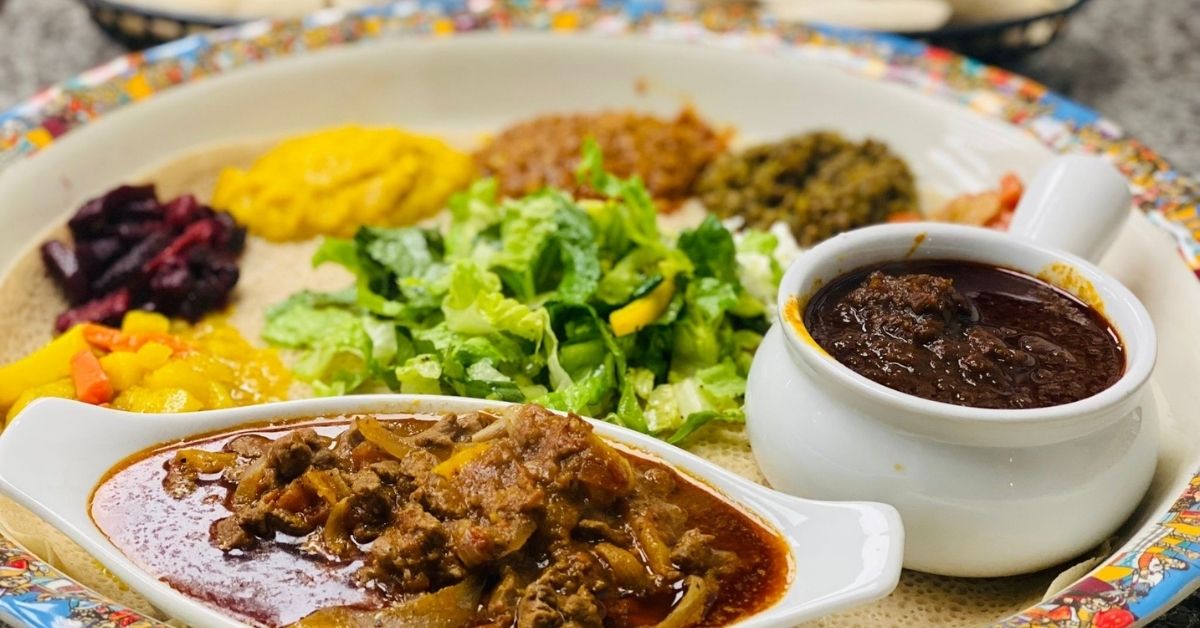 Awash serves all the classics of Ethiopian cuisine in a charming and comfortable location on 118 Avenue.  Visit their Facebook page to view a tutorial on how to eat the various foods (most everything is eaten by hand) and see photos of their incredible menu items.  You'll also learn the art of gorsha, how to hand feed someone a bite of food which is a custom at Ethiopian meals.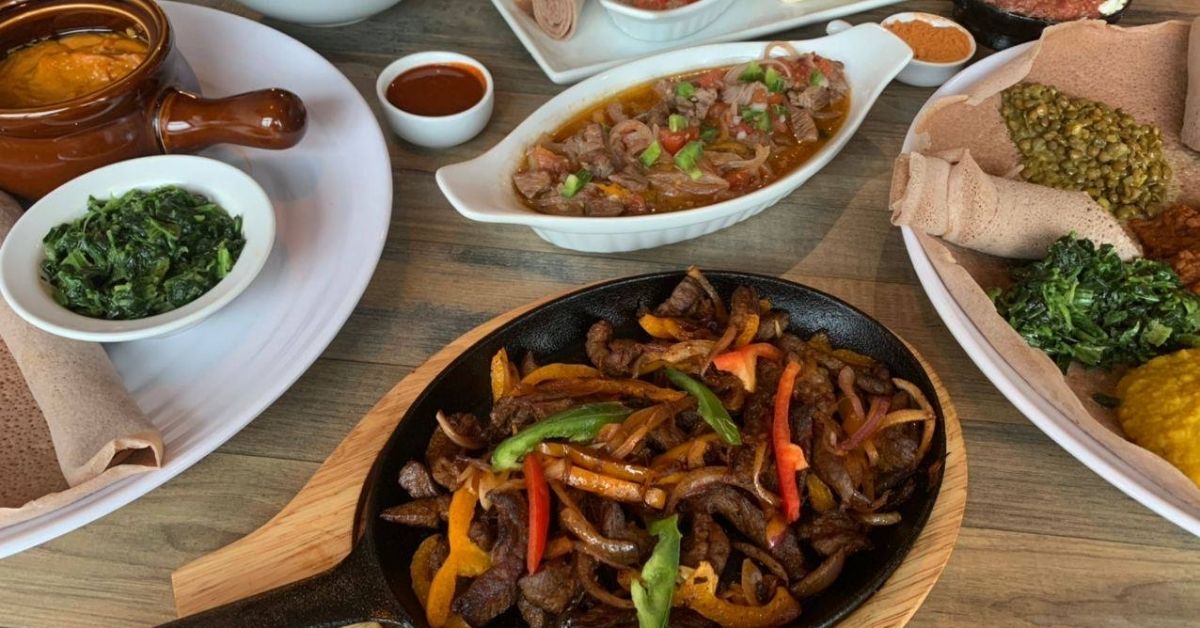 Also on 118 Avenue, Gebeta is named for the large platter upon which injera is placed then piled with different stews.  Dining in Ethiopian culture is a shared experience, with everyone eating from the communal platter.  At Gebeta, there is also a focus on pairing food with fine wine or enjoying your meal with a cold beer.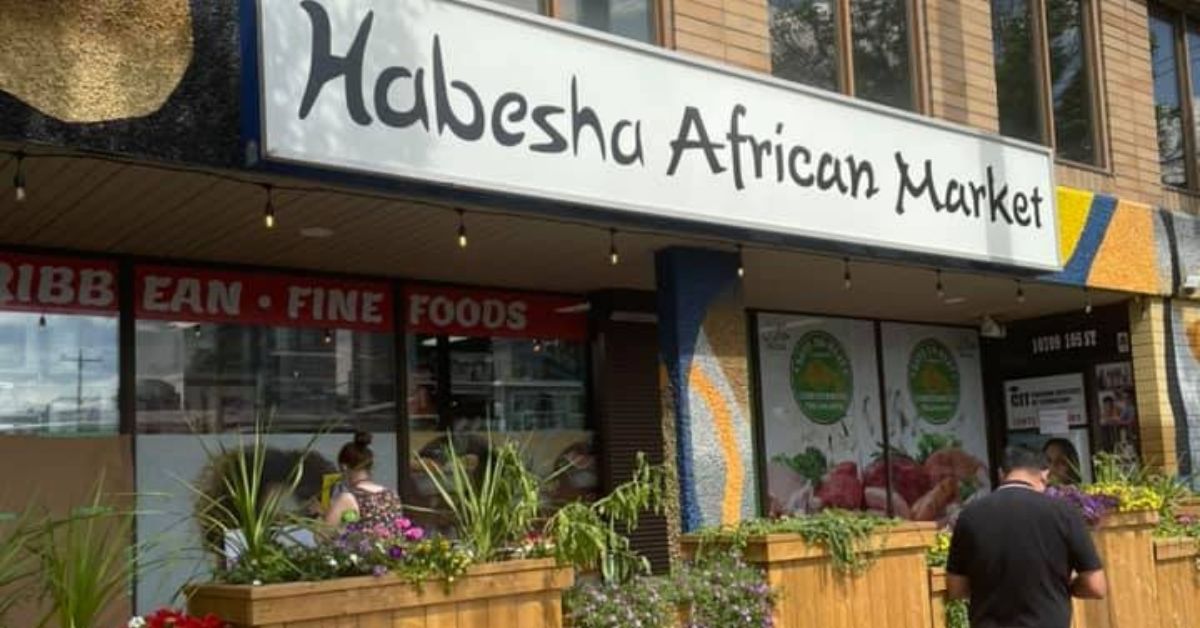 North of downtown on 107 Avenue is Habesha African Market which specializes in Ethiopian and Eritrean food and goods.  Here you will find traditional kitchen ware, speciality ingredients, prepared foods to grab and go, even beauty items.  Another thing that is important to Ethiopian culture is coffee!  At Habesha, you can pick up freshly roasted Yirgacheffe coffee beans as well as the pot and cups to do a traditional coffee service or ceremony.
Have you tried Ethiopian food?  What is your favourite dish and which restaurant do you recommend?
Are you a fan of World of Flavours?  If so, take a look at our first edition all about Middle Eastern dining in Edmonton and be sure to sign up for emails so you never miss a deal, a contest or any of our amazing content.