With just a few weeks left of warmer weather, now's the time to do all the things that get harder when it's chilly and snowy.  Maybe you'd like to go to as many of the coolest playgrounds in Edmonton?  Perfect, because that's where we're taking you today.  Get ready, pack a lunch and the sunscreen and off we go!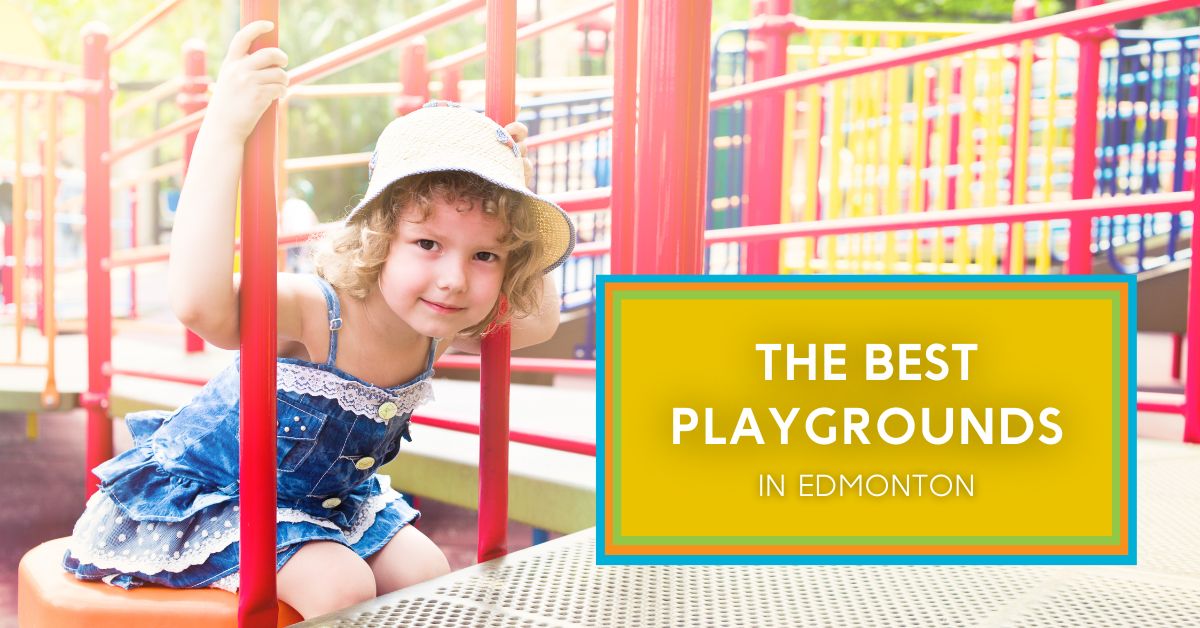 Located at the Boyle Street Plaza and Melcor YMCA Village, this new playground has climbing walls, swings, slides, climbing structures of all kinds and a rubber base to soften any falls.
Even better, this playground is just a 5-minute walk to the Royal Alberta Museum which is one of the premier family attractions in the city.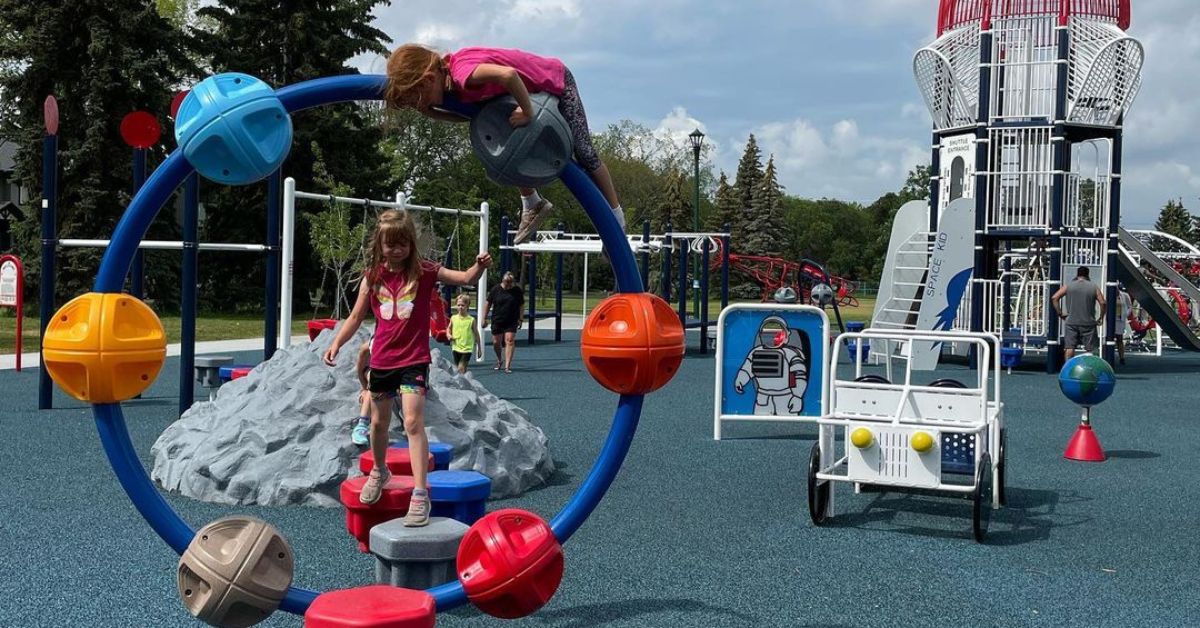 Would be astronauts will have a spectacular time at this playground.  The space theme is continuous throughout with lots of climbing structures including the giant space shuttle or "rocketship".  Kids can have fun navigating the giant moon rock, driving a moon rover, or the usual slides and swings.
Complete your day of space science adventure with a stop at the TELUS World of Science that's a 5-minute drive away.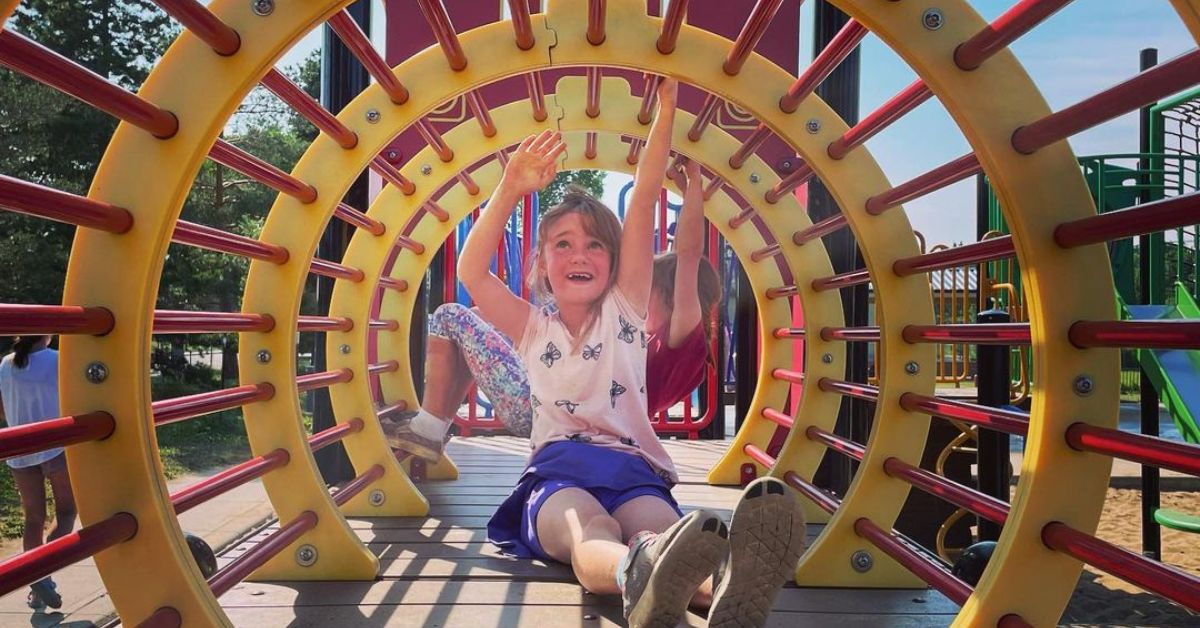 Toot Toot, All Aboard!  The Hazeldean Playground is all about trains, and not those fancy new bullet trains, the classic steam engines of yesteryear.  Two train structures for climbing, a mini station house, plus all the other usual features like slides, swings, and a little spray park for those hot days.
Right across the street is an Edmonton sweets secret, Hazeldean Bakery.  Pop in for one of their low-key famous donuts and other goodies.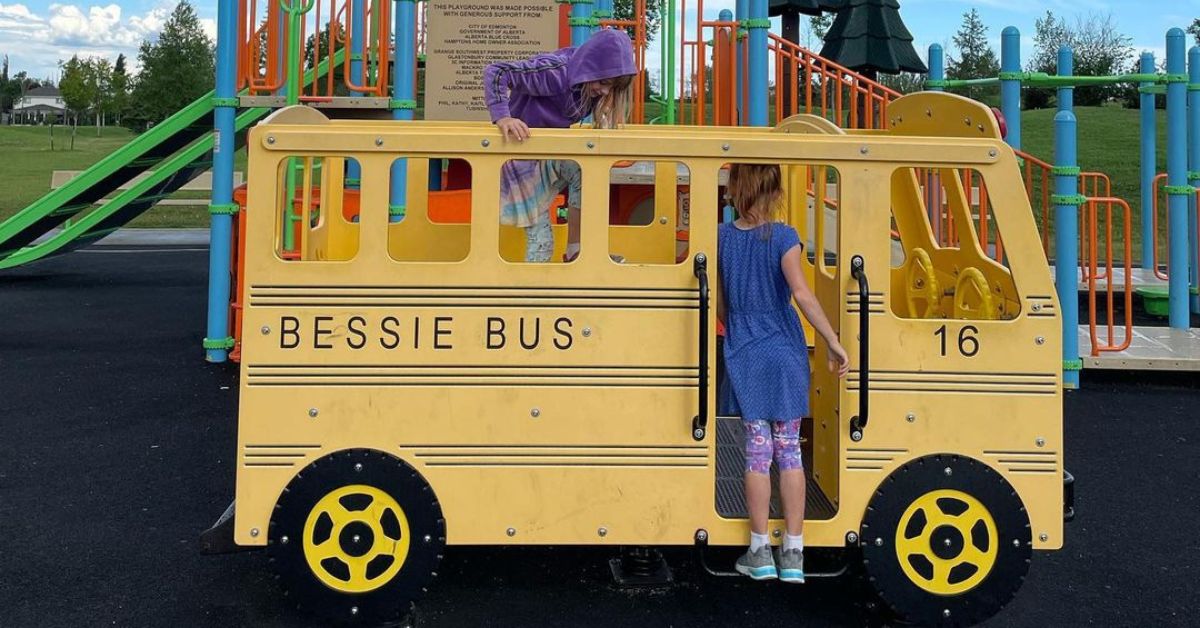 The adorable "Bessie Bus" is a main feature here for kids to climb in and take a "ride", but the large playground has many fun obstacles to traverse, including a dome-shaped climbing structure.  Find the usual slides and swings as well.
A large grassy park borders onto the playground area which is a great place to break out the picnic lunch and take some downtime.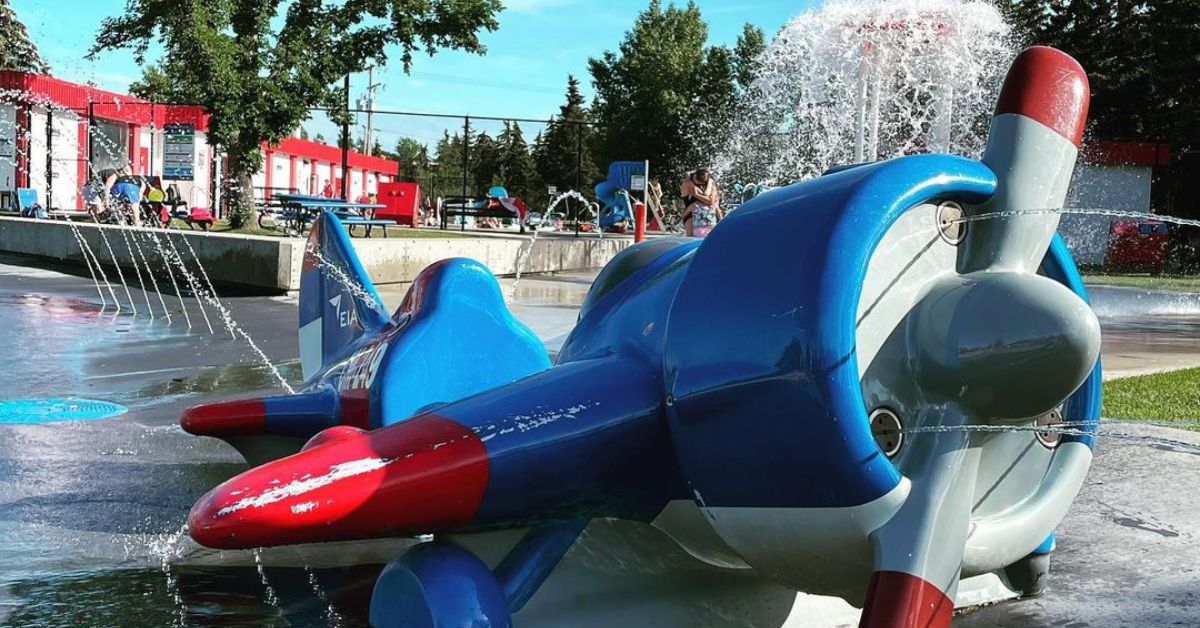 Head a little south to visit Leduc and the Leduc Spray Park and Alexandra Playground.  The playground is small with a climbing structure and slides but just enough to mix things up.  The real attraction is the spray park where kids can cool off with a little spritz or get fully drenched… they'll probably choose the latter.
With appetites stoked, don't head back home without a stop in at Zambelli's for possibly the best pizza in the Edmonton region – ya, that's right, we said it!
Looking for more great activities for families to enjoy?  We've got you covered.  Our Family Fun Guide has lots of ideas, and our itineraries for a fun weekend in Edmonton West part 1 and part 2 have even more to explore.
Special thanks to Jill of edmontonplaygrounds on Instagram for all the fantastic information.  These playgrounds are just the tip of the iceberg – follow @edmontonplaygrounds for amazing overviews of the latest, greatest playgrounds in and around the city.